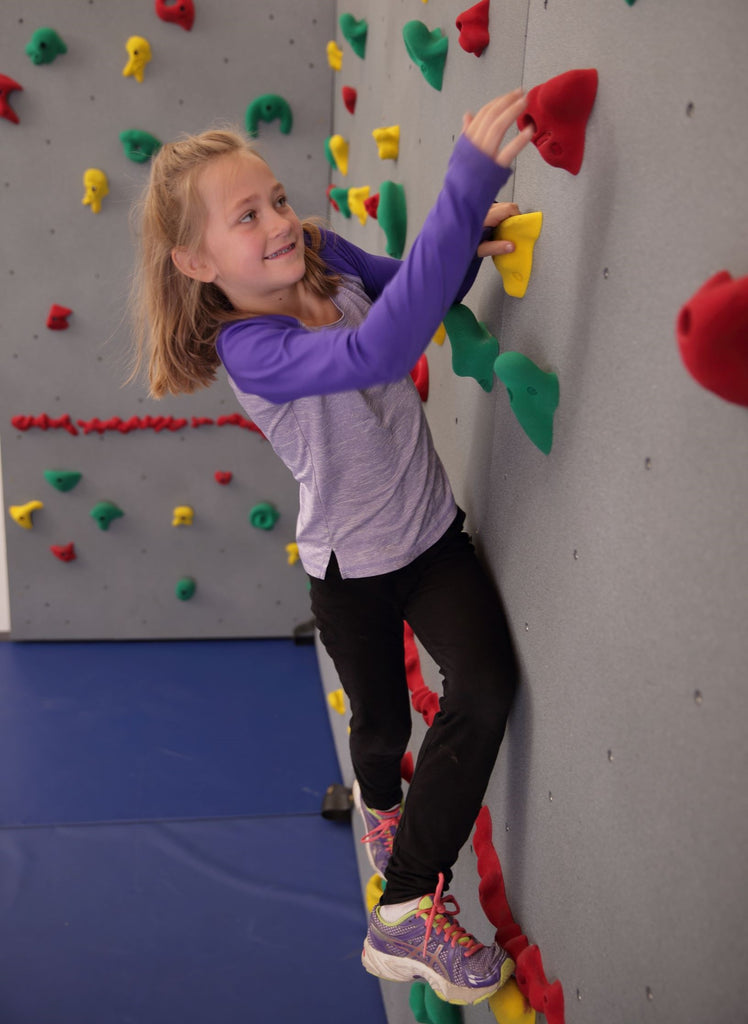 We are republishing this popular post from May 2021.
Thinking About Getting a Traverse Wall®? Answers to 5 Frequently Asked Questions
If you're thinking about getting a Traverse Wall, you probably have a lot of questions. Here are answers to the questions we get asked the most.
How can I keep participants safe on a climbing wall?
Safety protocols and safety products help you create the safest climbing environment. Here are the safety considerations that we recommend:
Safety Rules
Establish rules. Our suggested rules are below:

Climbers should be in athletic attire and not wearing jewelry.
Climbers should always be supervised.
Climbers should never climb over, under or around other climbers.
Climbers should keep their feet within the climbing zone (below the Red-Relief® Line).
Climbers should climb down, not jump off the wall, when they are finished climbing and quickly leave the mats.
Climbers should report any problems with the climbing wall to the supervisor. (A loose hand hold that can easily be tightened is the most common issue encountered.)

Teach the rules. Be sure participants understand the rules before they climb.
Notify about the rules. Place a sign of the climbing wall safety rules near the wall.
Enforce the rules. Supervisors should enforce the rules.
Put Safety Surfacing in Place
Be sure to have safety mats underneath the climbing wall and extending out 6 feet. This will offer a cushioned landing surface in the event of a fall.
Have a Closure System
You should have a way to close the climbing wall to prevent unsupervised or unauthorized climbing. Our Mat Locking® System is one way to accomplish this.
 How much space do I need for a Traverse Wall?
Traverse walls do not take up much space. Here are the minimum space requirements:
Minimum Required Height – Seven-, Nine- or 11-feet high (one foot more than the height of the climbing wall)
Traverse Walls are available in 8' or 10' heights. We also offer a WeeKidz® preschool climbing wall that is 5'10" high. You'll want an extra one foot to accommodate the safety mats and to allow room for installation.
Minimum Required Length – Whatever wall space is available
We recommend a climbing wall that is at least 20 feet long if you work with groups of children. Climbing walls can be installed around corners, doors, vents, pillars and electrical outlets, so whatever free wall space you have can be used. (Note: Climbing walls should never be installed over or around fire strobes, fire extinguishers or windows.)
Minimum Required Depth – Eight feet
Account for one foot of depth for the climbing wall. Add to that the 6-foot safety surfacing and one extra foot for ease of use.
How will I pay for my climbing wall?
We are here to help with this because we know that funding can be a major obstacle to getting a climbing wall. Download our free guide: How to Fund Your Climbing Wall: A Comprehensive Guide of Funding Opportunities, Ideas & Resources. The guide includes information about national and state grants that provide funding for physical education equipment, like climbing walls. Information about crowdfunding, restaurant fundraising, fundraising through sales, fundraising partnerships and do-it-yourself fundraising ideas are also included. In addition, a multitude of resources, like sample letters and rationale statements can help achieve funding goals. 
There are so many choices! What kind of Traverse Wall should I get?
There are a lot of Traverse Wall options from which to choose and it can be overwhelming. If you are interested in conducting cross-curricular climbing activities, our Magna® Climbing Wall is ideal. If you have climbers with special needs, our Adaptive Climbing Wall fits the bill. Those interested in a "real rock" look gravitate towards the Sandstone Relief Feature™ or Superior Rock™ Wall. And there are still other options to consider. If you would like an overview of all the options, please view our on-demand webinar Choosing a Traverse Wall which will help you decide what climbing wall is right for your program.
I have no climbing experience. How do I use a Traverse Wall with children?
If you are not a rock climber and have never managed a climbing program before, don't worry. We offer many resources to help you implement and run a safe and rewarding program. All of our climbing walls include our comprehensive Climbing the Walls activity guide which covers the basics of how to implement a climbing program as well as information and activities to keep the program challenging and engaging over time. We also offer tips and programming via our weekly educational blog posts and our on-demand School of Rock…Climbing webinar. Additionally, we can provide on-site staff training for a personalized and hands-on approach to initiating a climbing program.