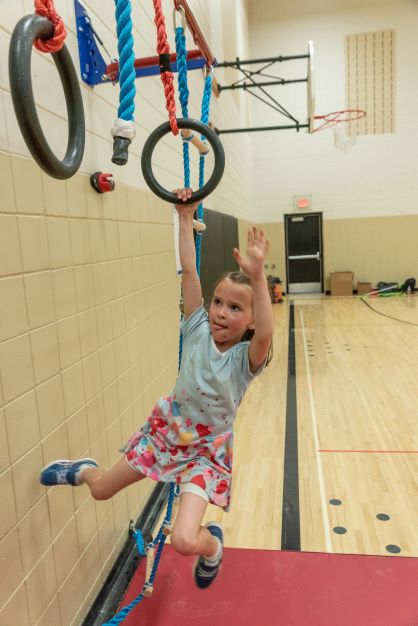 Broaden the Experience with Safari® Ninja Circuits
Looking for ways to enhance the climbing experience and add new challenges for your developing climbers? Safari® Ninja Circuits are a great add-on to either end of an existing Traverse Wall®. Moving on or off the climbing wall via these Ninja-like challenges brings extra excitement and movement opportunities to the climbing experience. The circuits can also be stand-alone elements if you have some free wall space.
Safari® Ninja Circuits include a variety of hanging elements, such as knotted ropes and rings of varying sizes, that require upper body strength, coordination and balance to navigate. The circuits are offered in three packages sizes (small, medium and large) and all of them include a 8'L x 2'W frame.  
When not in use, the frame can be pushed up against the wall and elements either covered with the Mat-Locking® System or removed for storage elsewhere.
Note: Safari® Ninja Circuits can only be installed on concrete block or poured concrete walls.