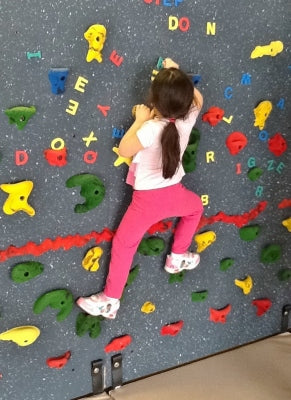 Two Climbing Walls are Better than One
Eastern Connecticut State University's Child and Family Development Resource Center (CFDRC) Boasts Two Traverse Walls
In 2013, the CFDRC expanded its curriculum with new gross motor opportunities for their preschool-age students. The center added two traverse climbing walls, made possible through the generous support from the ECSU Foundation, and installed by Eastern's maintenance personnel. The climbing walls serve to support children's cognitive, social-emotional, creative and physical development and also provide critical experiential learning opportunities for Eastern students who are planning careers working with young children. The indoor climbing wall is twenty feet long and eight feet high and features a magnet-accepting surface. The outdoor climbing wall is twelve feet long and six feet high and features clear panels.
 The indoor climbing walls are utilized for Physical Education classes each week. Children use the walls during lessons led by an Eastern Physical Education Teacher Education Candidate. One such lesson takes advantage of the magnetic features of the wall and asks children to climb across the wall attempting to locate all of the letters in their name by finding the letter magnets that are attached to the wall.  Some children readily climb for long periods, whereas others need additional prompts to encourage them to continue further in order to retrieve more letters (last name, middle name, etc.). Throughout the week, Preschool Teachers for each classroom also utilize the walls during other parts of the school day, especially during inclement weather.  The outdoor climbing wall is utilized during outdoor play times.  It is part of the playground where children can select the opportunity to practice their skills on their own.  Similar rules apply on each wall so children understand their responsibilities for use of the wall. The transparent glass of the outdoor wall allows for greater peer–play opportunities.
Professor of Health & Physical Education, Dr. Darren Roberts, was instrumental in getting the climbing walls. He states that "combining physical activity with other curricular areas is key in today's education of young children. We know we must provide opportunities for physical activity and play, however, we also know we must provide opportunities for literacy, numeracy and other traditional curricular areas.  Some schools are finding it difficult to find the time to ensure that children receive opportunities for both. With the help of our climbing walls, children are able to experience exciting motor activities that work to increase upper body strength; allow opportunities for decision making; and also encourage children to take risks — AND at the same time the children are being challenged to find letters or words to create sentences; solving addition or subtraction problems; or matching sounds and letters!  Our climbing walls are helping to educate the whole child while encouraging a healthy lifestyle! An equally as important outcome of these walls is that they're fun too!" Learn more from this informative student-created video, Ready to Climb.