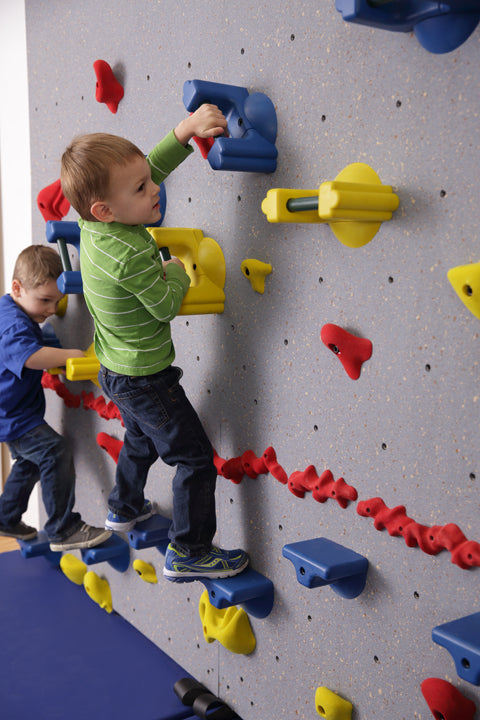 Everlast Climbing Brings Climbing to a Younger Generation
Everlast Climbing has introduced its Beginner WeeKidz® Climbing Wall, a new climbing innovation specifically designed to introduce children ages 3-5 to the world of traverse climbing.
The Beginner WeeKidz Climbing Wall features grab-bar style hand holds and ledge-style foot holds to provide an easier route for young children to begin climbing. These patent-pending holds are mixed with traditional hand holds and foot holds that were also specifically designed to be larger and easier for younger children to grasp. "We are really excited to be able to provide a climbing wall for young children. Climbing is a life-long sport and we're eager to introduce it to preschool-age youth," said Tim Sudeith, General Manager of Everlast Climbing. The climbing wall is designed to offer a variety of challenges that will meet the needs of children as they advance in climbing skill. Children can begin by using the blue grab-bar style and ledge-style holds, and then move up in difficulty to the yellow grab-bar style hand holds and traditional foot holds before finally graduating to using all red traditional hand and foot holds. This allows children to become comfortable with the feeling and movement of climbing before attempting the more traditional and challenging style of climbing.
Each Beginner WeeKidz Climbing Wall panel comes with a mixture of 20 grab-bar style, ledge-style and traditional holds. WeeKidz climbing walls are 6'10" tall with t-nuts placed only to 5' high to create a controlled climbing environment for younger children. Along with holds, the wall features the signature Red-Relief Line® which defines the safety zone. This strip of red hand holds is placed 2' above the floor and is a reminder for the climbers to place their feet no higher than that level. Safety surfacing and wall closure via the patented Mat-Locking® System bring additional safety features to the climbing experience. The Beginner WeeKidz Climbing Wall is also available with Everlast Climbing's Magna® surface, which allows children to combine climbing with learning by placing and moving magnets along the way.