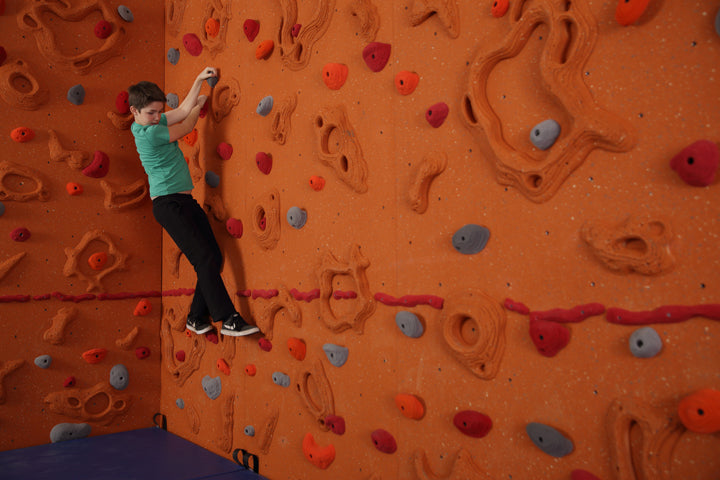 Introducing the Sandstone Relief-Feature® Climbing Wall by Everlast Climbing
New traverse climbing wall features a unique look and brings technical challenges to the climbing experience.
Innovation is always top of mind at Everlast Climbing and the new Sandstone Relief-Feature® Climbing Wall is a great addition to the company's line of unique climbing walls. The Sandstone Climbing Wall's orange-brown coloring and design resemble the sandstone rock you would see in places such as Arches National Park in Utah. The surface of the climbing wall includes relief features that are climbable and complement the wall's distinctive look.
Everything for this climbing wall was specially designed to coordinate with the sandstone theme, including the hand holds, the Red-Relief Line®— even the matching outlet cover. "Our idea was to bring together both a challenging climbing experience and a visual showcase piece," said Sarah Howard, Everlast Climbing's Marketing Manager and product developer. Tweens and teens will find this wall a perfect challenge for their age group. A Sandstone Relief-Feature Traverse Wall® includes 66 t-nuts per panel with 20 color-coded hand holds of varied challenges, allowing climbers to traverse routes by difficulty. Gray holds are the easiest, orange holds are moderate in difficulty and red are the most difficult. Once the routes by color have been mastered, climbers can use only the relief features or a combination of the relief features with the hand holds.
The Sandstone Relief-Feature Climbing Wall is available as 8- or 10-foot high Traverse Walls, and also as a Top Rope Climbing Wall. "We recognized the need to increase our offerings to meet the needs of older children and more advanced climbers," said Tim Sudeith, General Manager of Everlast Climbing. "We're very excited to add a more technical climbing wall to our line."