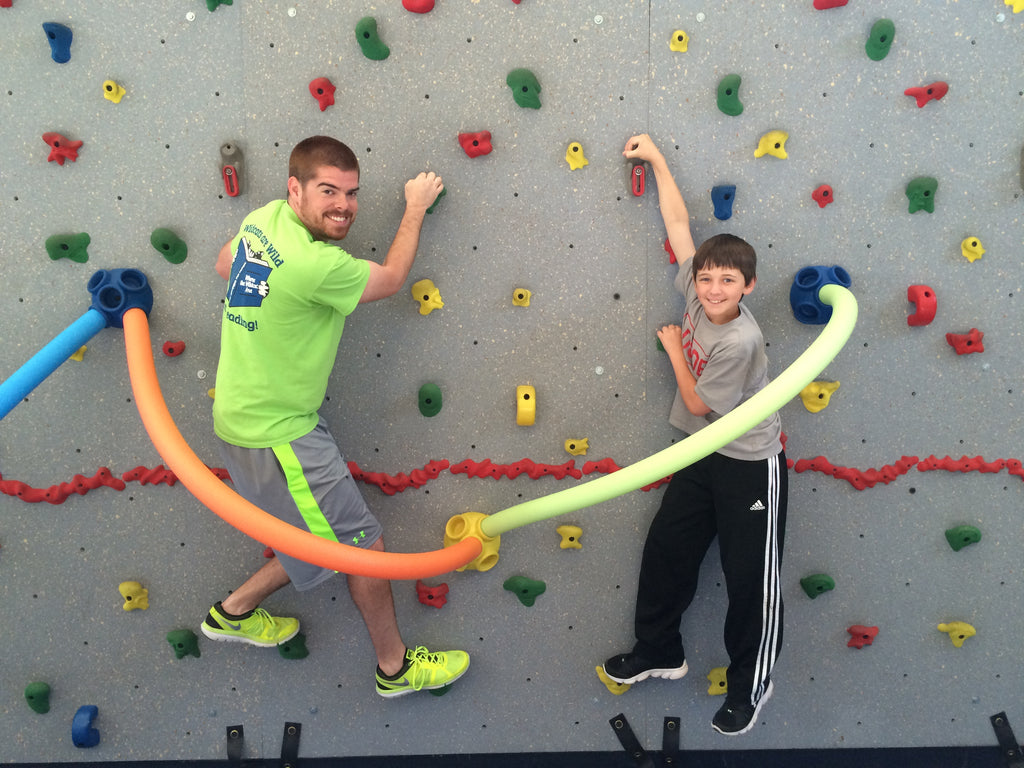 Rock Climbing Brings Fun and Fitness to PE Program by Matt Barrows
Rock climbing has been a phenomenal addition for our kids at Clardy Elementary. We raised money for a rock climbing wall in 2014-2015 to reward our students for achieving 100 percent APR (Annual Performance Reports) from the state of Missouri. The rock wall has provided our students with experiences they've never had before.
When we first had the wall installed, the kids challenged themselves to climb across the 40-foot long wall without touching the ground. Soon after they learned all of the climbing basics, they were then challenging themselves to see how many times they could cross the wall in one class period. Their hands were red, but they insisted on continuing to climb. This has been such a great alternative to our climbing rope for those students that struggle to climb the rope. The rock wall helps our kids develop upper body strength which helps them climb the rope along with our upper body strength fitness testing.
Our students enjoy the other uses for the wall as well. Their favorite is the challenge obstacle course as they maneuver through pool noodles attached to the wall. We also use the wall to assist with our body strength to prepare us for fitness testing by using the resistance band attachments. Everlast Climbing has created so many opportunities with the rock wall for our kids beyond climbing!            
About the Author: Matt Barrows is in his fourth year of teaching PE and Health at Clardy Elementary School in Kansas City, MO. He started an after-school running club that has 200 participants, which is 40% of the students enrolled in the school! Since he started at Clardy, there have been several improvements made to the gym providing students with the best active environment possible. In his third year of teaching, Matt was recognized by the school district and selected to the Teaching Honor Cadre. This is awarded to only 12 teachers in a district that includes 30 schools. This year, he received a grant from the Heartland Foundation for Project Fit America. Matt says, "I couldn't ask for a better job.  I want to continue to provide growing fitness and social opportunities for our students by continuing to teach and introduce creative games for our students!  Getting students moving while having fun is my main emphasis in physical education!"