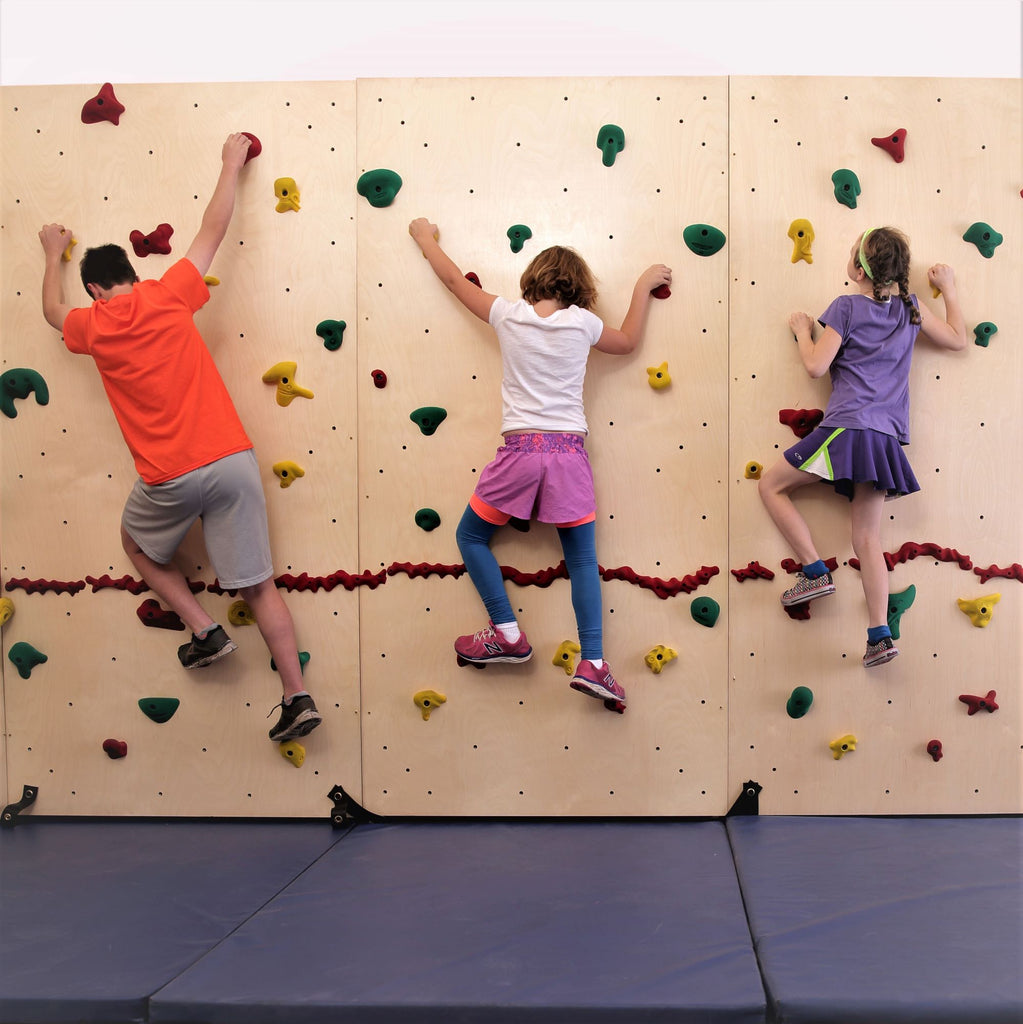 This was originally posted on December 9, 2020. It has been a very popular post that we are reposting as a helpful resource.
The "Inherited" Climbing Wall: What's What
We often hear from physical educators that their school already had a climbing wall when they were hired. They were no part of the selection process and often do not know what some of the features are, or how to implement climbing into their physical education program. If you inherited a Traverse Wall® and need some guidance, we're here to help.
Most of our horizontal climbing walls include the following features:
Climbing Wall Panels – Most of our climbing walls feature wood panels with a surface that is either smooth, rock-realistic or cross curricular. The panels range in height and can be 5'10", 8' or 10' high. The higher the wall, the older (and taller) the climber it can accommodate. Some rock-realistic panels also include relief features that can be used along with hand holds to climb.
Color-coded hand holds – Most of our climbing walls include green, yellow and red hand holds. The green holds are our beginner-level holds and are the largest and easiest to grip. The yellow holds are our intermediate level holds and are a little smaller and more challenging. The red holds are the most advanced and are the most technical. Our 10'-high walls also include blue holds which bring another challenging color to the wall. The color-coded holds differentiate the climbing experience allowing climbers to choose their challenge. When children first start climbing, they'll probably use holds of every color. We call this the "rainbow route." As they advance in skill, they will graduate to route climbing, meaning climbing using holds only of one color. Using only the green holds would be the easiest of the routes, followed by the yellow route and then the red route is the most challenging.
Red-Relief Line® - This horizontal red line defines the climbing zone. No feet should go above this line to keep climbers close to the safety mats. Climbers can easily see for themselves how high to climb and supervisors can see at a quick glance if anyone is climbing too high.
Included in most Climbing Wall Packages
Our climbing wall packages also typically include:
Safety surfacing with our Cordless Mat-Locking® System that provides a cushioned landing surface for climbers and also folds up and locks the climbing wall when it is not in use to deter unsupervised climbing.
Climbing the Walls Activity Guide – This 250-page book features 65 detailed lesson plans and a wealth of information that will enable you to create a safe and rewarding climbing program.
Traverse Wall Safety Rules Sign – This 18" x 24" sign outlines the safety rules and should be mounted near the climbing wall.
Safety, Care & Maintenance Manual – This important document outlines how to inspect and care for your climbing wall.
Accessories
Your climbing wall may also have some of these fun accessories meant to add variety or cross-curricular experiences to the climbing wall.
Climbing Wall Challenge Course – Foam noodles, balls and special hand holds that allow you to create a variety of fun obstacle courses on the climbing wall.
Versa® Challenge Course – Another way to make an obstacle course by attaching hoops to specially-designed hand holds that feature clips for inserting and positioning hoops.
Discovery™ Plates – These white squares mount to the climbing wall behind a hand hold and can be written on with a dry-erase marker to allow for cross-curricular learning while rock climbing.
Climbing Resources
In addition to the included activity guide, we offer additional resources on our website to help you add rock climbing to your physical education program. Be sure to check out our informative Webinars and our Climbing Wall Activities page. They offer great tips for conducting climbing activities with youth and a variety of ideas and activities to keep the Traverse Wall fresh and interesting for children of varying ages and abilities.
If you inherited your climbing wall and need further guidance or cannot locate important items or resources, please contact us. It's important to us that you get the most out of your climbing wall and we are here to help.