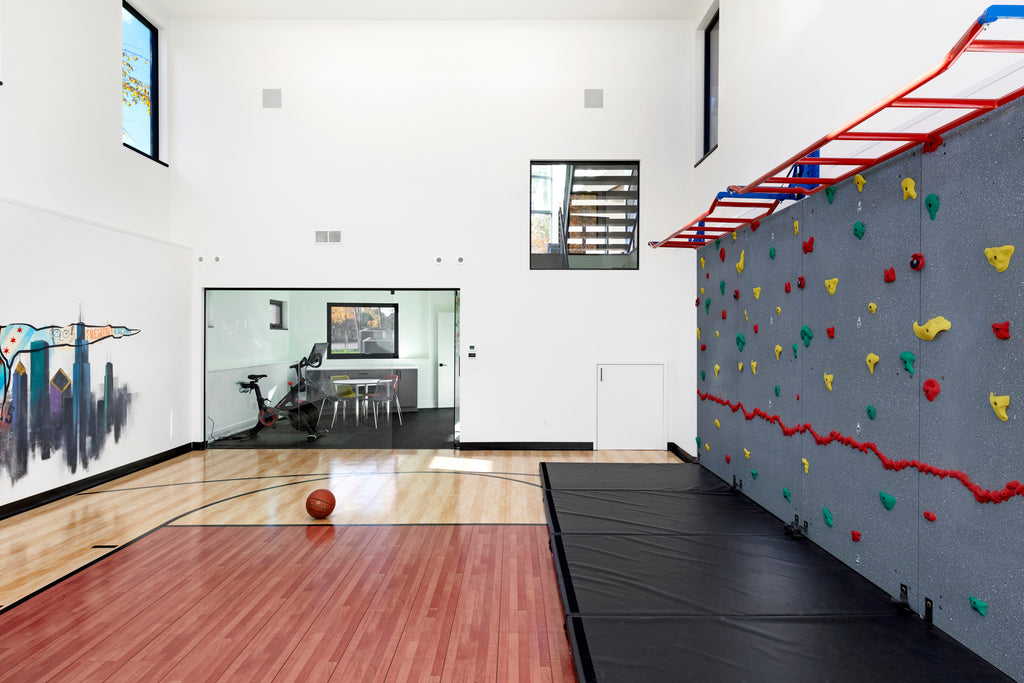 Climbing Wall – A Home Athletic Court Essential
The trend in  indoor home courts is exciting to see, and we are thrilled to have our climbing wall and an indoor jungle gym element included in the home court of a beautiful new house. The court is part of the home's lower level and is adjacent to an exercise room, game room and family room. The athletic court features an 8′ x 16' River Rock Traverse Wall, Safari Monkey Bars and custom black safety mats. A climbing wall is a great part of any home court or home gym, not only because of the fun and fitness factors, but also because it occupies very little floor space. You just need safety mats that extend six feet from the climbing wall and those mats can even be made to fold up and store against that wall to provide access to the entire floor, if desired.
In this indoor court, climbers can traverse across the climbing wall using the color-coded hand holds or make their way from one end to the other using the monkey bars. Users can also do a combination of both, with feet on the climbing wall and arms on the monkey bars. The safety mats provide a cushioned landing surface and the custom black color coordinates well with the rest of the home's décor. This athletic court will offer hours of year-round activity for the whole family for many years to come.
Learn more about this project and the beautiful Sustainable9 home that it is in.