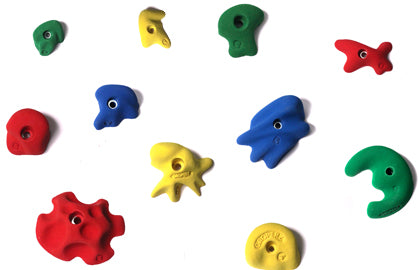 Route-Setting Hand Holds
Patented Groperz® Route-Setting Hand Holds simplify the process of setting climbing wall routes. These hand holds are color coded to identify difficulty level and they are embossed with identifiers that correspond to route maps in our Route-Setting Guide (sold separately). When you orient specific hand holds on the climbing wall according to the route maps, you can create interesting climbing routes of varying difficulty levels. The route-setting hand holds include a variety of shapes including pockets, pinches, slopers, jugs, crimps and edges. Their difficulty levels range from beginner to experienced.
Beginner hand hold sets are green and large for an easier climb. Intermediate-level hand hold sets are yellow and come in varying sizes for a light challenge. Advanced hand holds are red and are available in medium sizes for a challenging climbing route. Experienced hand holds are blue and available in varying sizes and shapes for technique building.
Note: Groperz Route-Setting Hand Holds are great hand holds on their own and can also be used without the Route-Setting Guide. Simply ignore the markings and mount them in any orientation and location on the climbing wall.