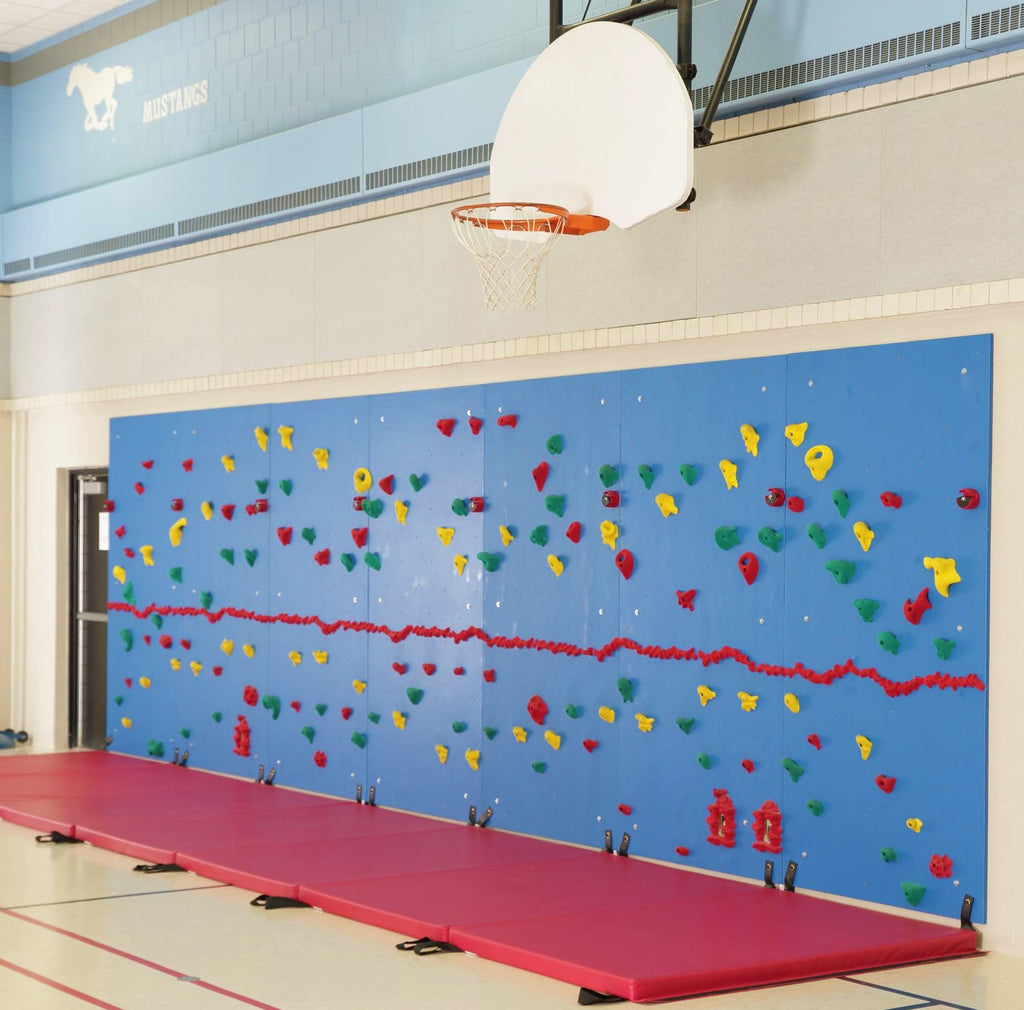 Safety Surfacing 101: Choosing the Right Safety Mats
Safety is a high priority for any rock-climbing program and safety surfacing is a key part of keeping climbers safe. Here's an overview of our safety mats to help you choose the right mats for your program.
Mat Thicknesses
Our Standard Mats are two inches thick and our Premium Mats are three inches thick. They each are made of foam and are covered in 18-ounce polyester-reinforced vinyl. Choosing which thickness depends on wall height, preference and budget. Traverse Walls® that are six to eight feet high most commonly utilize two-inch mats because climbers are never more than a few feet high while climbing. Once Traverse Walls get to 10-feet high, or with Top Rope Climbing Walls, supervisors are often more comfortable with that extra inch of foam. Three-inch mats are also ideal for high-traffic areas, such as behind a basketball hoop. However, some people prefer one mat thickness over another. It should also be noted that the thicker mats are a little more expensive.
Safety Standards
All our Safety Mats have been safety tested for impact attenuation and for wall padding. They meet or exceed the performance requirements ASTM F1292-04 and ASTM F2440-11.
Fire Retardant Options
Our climbing mats are also available in two fire retardant options to meet the needs of local building codes. Be sure to check with your fire marshal to see if there are any codes to which you must comply.
Our FR Safety Mats meet the ASTM E-84 standard test method for surface burning characteristics of building materials at a Class C.
Our Ultra FR Safety Mats have our highest fire rating and pass the NFPA 286 Standard Methods of Fire Tests for Evaluating Contribution of Wall and Ceiling Interior Finish to Room Fire Growth.
Both types of FR Mats are available in two- or three-inch thicknesses.
Please keep in mind that not all Fire-retardant Safety Mats are made equal. Individual components may meet testing criteria, but to satisfy the code requirements the safety mats must be tested as a complete unit. We have had all our safety mats tested as complete units and can provide test results upon request.

Mat-locking® System
Our patented Mat-Locking System enables your safety mat to perform two additional functions beyond safety surfacing. The first is to prevent unauthorized and unsupervised climbing, by closing and locking your climbing wall when you do not want climbers on it.
To "close" the climbing wall, simply lift and push the mats up against the climbing wall and hang the nylon webbing loops on the specially-designed holds. Next, turn the latch and lock it by turning the security bolt. Our "No Climbing" decal is printed on the outside to further show that the climbing wall is closed. 
The other function of the Mat-Locking System is to provide protrusion protection. When non-climbing activities are happening in the gymnasium, the mats offer a cushioned surface if anyone were to run into the closed climbing wall. This wall padding feature makes it possible to install climbing walls directly behind a basketball hoop.
For additional security, we offer Sidelocks. This upgrade closes each end of your climbing wall and prevents someone from climbing in between the mats and the closed climbing wall.
Special Features
Our safety mats were thoughtfully designed and have many special features. Mats are four-feet wide and edged with hook and loop fasteners so that each mat connects to the one next to it. Mats are also fastened to the base of the climbing wall. These features ensure that the safety mats remain in place at all times while climbers are on the wall.
Since we are in control of the manufacturing process, our mats can be configured to fit unique spaces or around corners and pillars. They are custom made to your exact specifications.
Colors
Our safety mats are available in two colors – Red or Royal Blue. We also offer custom colors for an additional fee. Those colors include green, navy, purple, gray, black and burgundy. (Burgundy is not available for FR mats.)
Replacement Mats
Our mats are durable and long lasting. You will know it's time for new safety mats when they feel stiff and do not provide a cushioned landing or have visible dents. Rips or tears in the vinyl also signal the time for replacement. Contact us and we will help you find the right replacement mats.