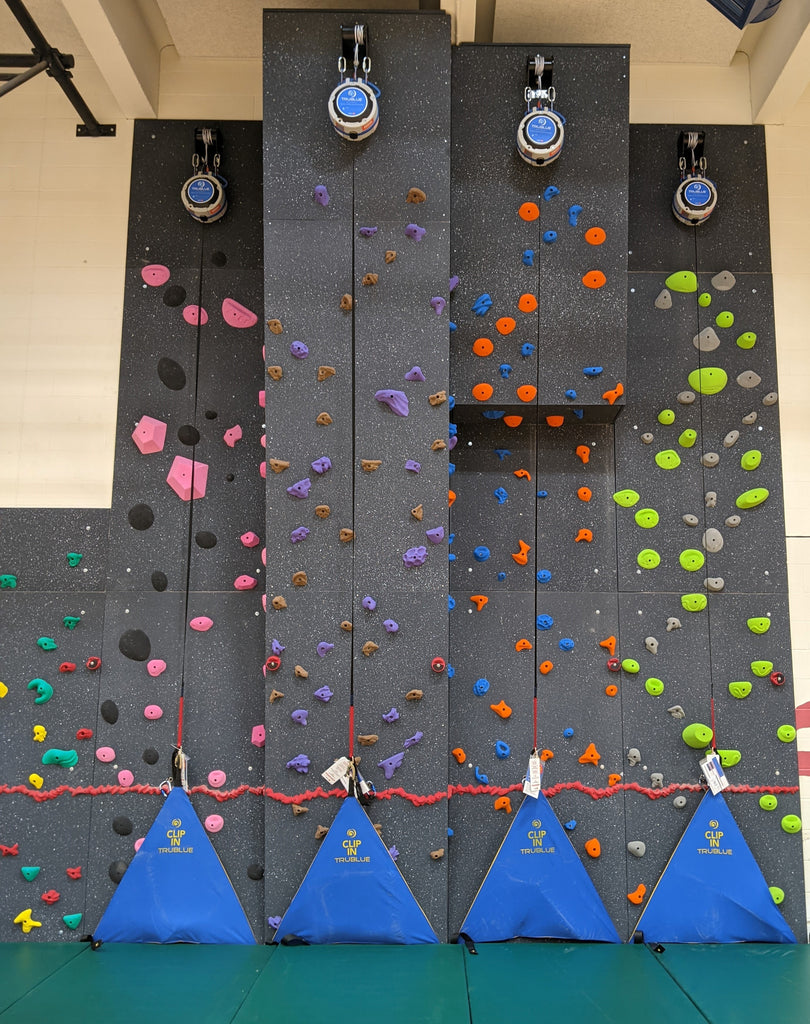 Our Favorite Climbing Wall Projects of the Year
We are grateful for the many climbing walls we have had the honor to build and install this past year. We would like to share three of our favorite school projects with you.
Allegany-Limestone Elementary School (Allegany, NY)
Allegany-Limestone Elementary School is home to a beautiful Combi Wall. This climbing wall is part Traverse Wall® and part Top Rope Wall, which simultaneously offers horizontal and vertical climbing opportunities. Many schools utilize the Traverse Wall for their younger students who graduate in later years to vertical climbing. The Traverse Wall is 8 feet high and 28 feet long. We had no problem installing the Traverse Wall along an angled gym wall and the custom-color green safety mats were specially made to perfectly fit the space. The Top Rope Wall is 20 feet high and 16 feet wide and features four auto belay stations. The surface of both walls is Magna® enabling students to place and move math, letter or word magnets while they climb to bring classroom learning to the climbing experience.
Owatonna Middle School (Owatonna, MN)
This sculpted Magna Top Rope Wall features colorful hand holds. It is 24 feet high and 24 feet wide and includes six belay stations. Students are learning the important safety techniques to belay each other with the safety ropes and building important leadership, trust and teamwork skills along the way. The climbing wall includes varying angles and a roof which provide many options to challenge climbers and will help them build strong climbing skills.
Spooner Middle School (Spooner, WI)
We installed another Combi Wall at Spooner Middle School. The Top Rope section is 28 feet high and 16 feet wide with four belay stations and a roof section at the top of one section for extra challenge. The Traverse Wall portion (not entirely pictured) is 10 feet high and 8 feet wide. The 10-foot-high Traverse Wall is perfect for the taller middle school students and recommended over the 8-foot-high Traverse Walls installed in elementary schools. Their entire climbing wall features a Standard Wall surface which has a light texture and real rock look and feel.