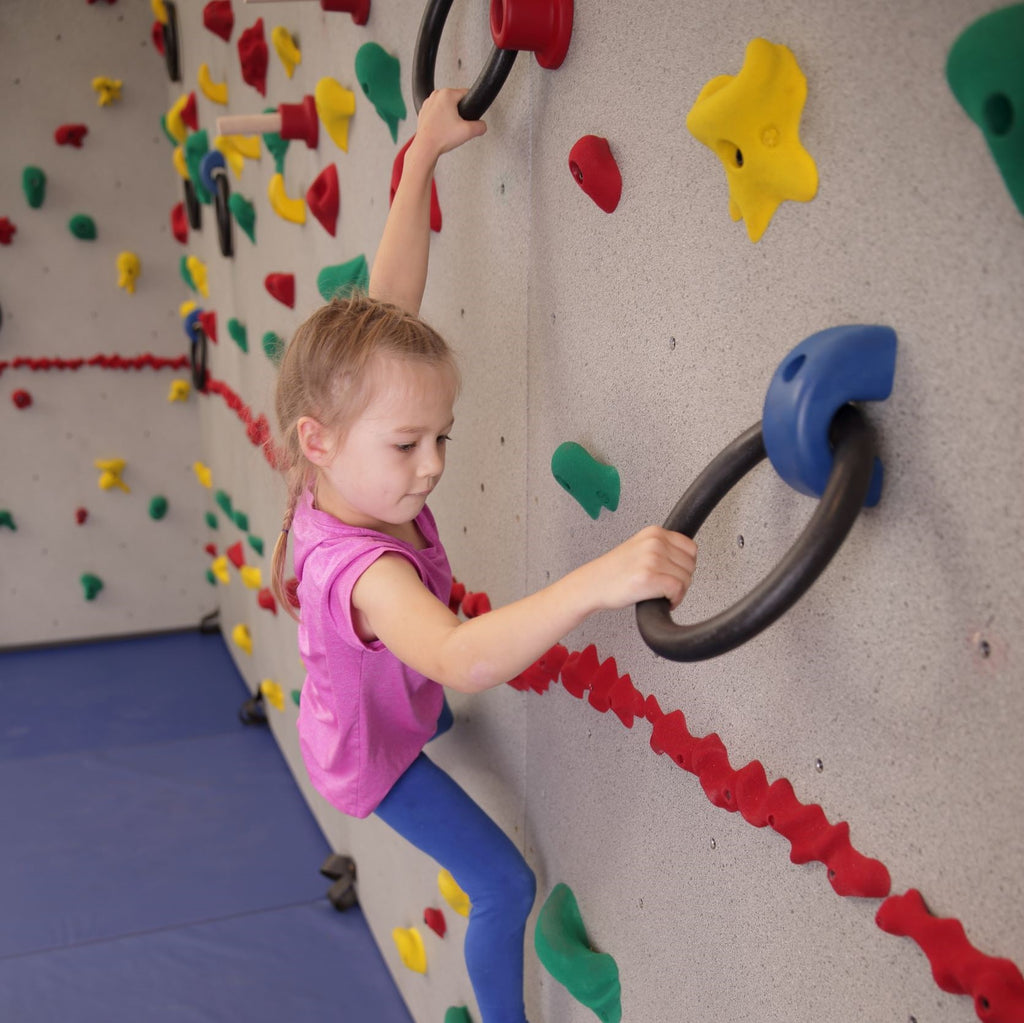 How to Make Your Climbing Wall Extra Kid Friendly
Most of our climbing walls are inherently kid friendly because we make most of them for kids. They have bright-colored hand holds and dynamic surfaces that allow for a variety of climbing experiences. However, if you want to make your climbing wall extra kid friendly, consider adding some of these unique accessories.  
Discovery® Plates
Discovery Plates bring learning, art and even more fun to the climbing experience. These dry-erase and magnetic plates fit between hand holds and the climbing wall. Climbers can pause along their way across the wall to write or place magnets to spell words, draw pictures, practice math facts and more. The set of ten plates includes dry-erase markers, over 500 word, letter and math magnets and an activity guide.
Safari® Monkey Bars
Installing a Safari Monkey Bar above part of your climbing wall brings the playground to the wall! This accessory adds an upper body challenge that can be modified by keeping feet on the climbing wall to help make it across the bars. It can even be used to bridge two separate climbing walls or to lead you to other elements in our indoor jungle gym line.
Alphabet and Number Holds
Adding letters and numbers to your climbing wall brings in learning opportunities and a can personalize the climbing wall. You can spell words, number panel sections or add inspirational messages to the climbing wall. The holds can be used for climbing, so are not just for decoration. Number Holds are sold in sets of numbers 1-10 (screw-on style) and Alphabet Holds are sold as the complete alphabet or individually in bolt-on and screw-on styles.
Loop Holds
Loop Holds offer an alternative to the other hand holds on the climbing wall. They feature a large ring, or loop, that is fastened to the climbing wall but still free to slightly move. It can be easier to grasp than some of the other holds, providing a nice alternative for inexperienced or hesitant climbers. It's also attractive to confident climbers because it has a Ninja vibe to it. Sold in sets of six and includes an activity guide.