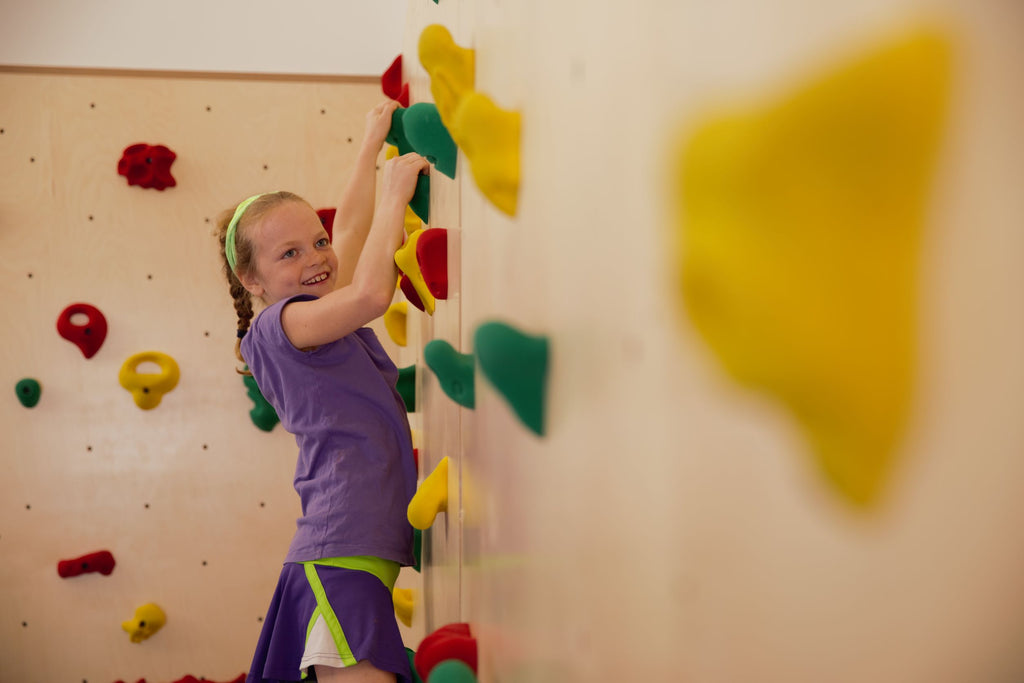 Climbing Anywhere, Anyhow
We aim to bring climbing opportunities to as many people as possible, so we have developed climbing walls that can go almost anywhere – indoors, outdoors, poolside, attached to a wall or freestanding. And we offer design features and programming to meet almost anyhow – adaptive, early childhood, cross-curricular or athletic training. Check out all the ways to climb!
Indoor Climbing Walls
Indoor climbing walls are our best sellers. We offer horizontal climbing with our Traverse Walls® and vertical climbing with our Top Rope Walls. They are custom built and installed for each space and with over 15 different panel styles, we can accommodate program and aesthetic goals for climbers ages 3 and up. Choices range from rock-realistic, educational, adaptive, colorful, artistic and more.
Outdoor Climbing Walls
When a facility is lacking indoor space for a climbing wall, they can take it outside with our freestanding Playground Wall. It's climbable on both sides so climbers have a fun challenge trying to make it all the way around the wall, climbing across the panels on each side. Clear panels add an extra "fun factor" for climbers who can see who's climbing on the other side. It's available in two heights: 6' (for ages 3-5) and 8' (for ages 5-12). Gray panels are also an option. The Playground Wall is IPEMA certified and meets ASTM A-82/A-185. It's the perfect addition to any playground or open outdoor space
Kersplash® Pool Climbing Wall
If space is lacking, but there's a pool, a Kersplash® Pool climbing Wall is the solution. This can be installed at an indoor or outdoor pool and, depending on the depth of the pool, it can be 8' to 16' high. Children and adults alike enjoy the challenge of the climb, as well as the exhilarating plunge back into the pool. Our pool climbing walls are an especially big hit with the "big" kids – tweens and teens.
Freestanding Climbing Walls
When there's no wall space for a climbing wall, we have freestanding options. There's endless climbing on our 360° Wall. The 8'H x 8'W cube allows climbers to traverse around and around as long as their muscles and determination allow! This freestanding climbing wall is for children ages 5 to 12. For children ages 3-5, we have our WeeKidz® Tyke Tower that stands 5' high and 4' wide on each side. It features a magnet-accepting surface, magnets and a Discovery™ Plate to enable learning while climbing.
More advanced climbing can be done one of our patented EverActive® Walls. The EverActive Adjustable Climbing Wall is 12' high and available in 3 widths – 8', 12' and 16'. Linear electric actuators create angles ranging 0 - 65 degrees to help achieve training goals and to accommodate climbers of varying ability levels. Panels are made of Baltic birch and can be clear, black, gray or a custom color upgrade. Our EverActive® Junior is the perfect way to bring indoor climbing to homes. It stands 10 feet tall and 8 feet wide and offers angles from 5 to 60 degrees that are created with a manual crank. No electricity is needed. With all the versatility offered by the angles, it's a wall that grows with climbers and accommodates varying levels of ability.