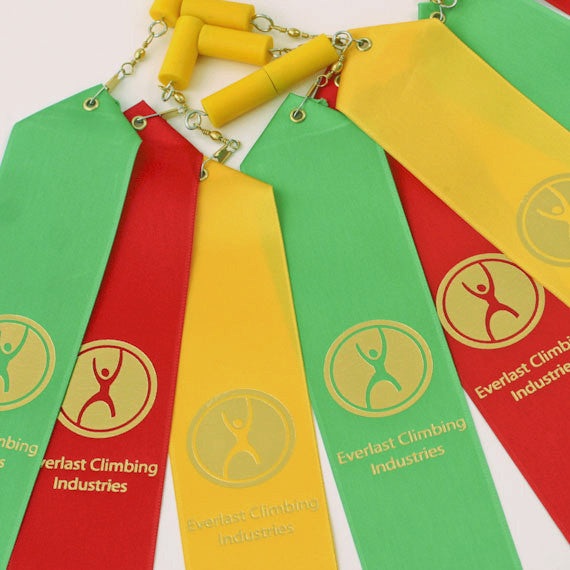 Magna® Flags
Red, Yellow and Green Activity Flags that magnetically attach to the bolt holes of climbing holds for fun tossing and other climbing wall games. Set of 10.
Magna Flags

Fun and eye-catching, Magna® Flags are great for game playing and initiative challenges during climbing wall activities. Each flag hangs from a magnet that fits securely into the bolt hole of a climbing hold and is easy to grab, move, toss and place. They can also be used with the magnetic surfaces on Discovery® Walls, Magna® Walls and Discovery® Plates. Comes with Five Activities to use with the Magna® Flags. Available in mixed-color sets of 10 red, yellow, and green flags.

Visit our Climbing Wall Activities page to download "Flag Toss", a Magna Flag Activity where climbers toss flags into buckets while traversing the climbing wall.

Specifications

MAGNA FLAGS
Age Appropriate

Elementary, Middle & High School

Includes

Set of 10 Mixed-color Magna Flags (Red, Yellow, Green), five activities

FAQs

How do the Magna Flags attach to the wall?

The magna flags can attach to your climbing wall in several different ways. If you have a magnetic surface, such as on our Magna, Magna-Relief, Discovery Dry Erase or Discovery Blackboard they can attach directly to the surface of our climbing wall. If you have purchased Discovery Plates, they can attach to the surface of the discovery plates. The Magna Flags also attach to the bolt in each of the hand holds mounted on the wall.

What colors do they come in?

Magna Flags come in a mixed set of Red, Yellow and Green.

What activities can I do with the Magna Flags?

The Magna Flags come with 5 different pre-designed activities. In addition, use your imagination and come up with many more!

Shipping and Install

Shipping

The product will ship via FedEx.

Installation

No installation is required. Magna Flags are placed and removed by climbers.