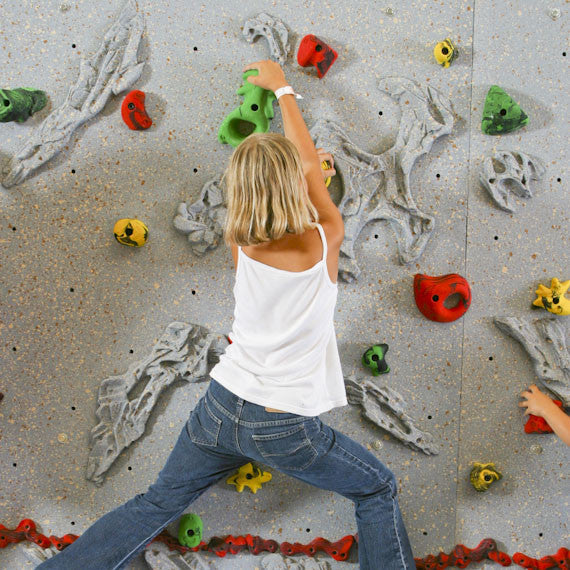 Relief-Feature™ Climbing Wall
Rock-like features enhance the climbing experience and add eye-appeal to this Traverse Wall. Challenge yourself by only climbing on the rock features! For information on our Everlast Climbing Grant discount program, which can help cover a portion of your costs, please visit EC Grants.
Looking for additional sizes in climbing walls? We can build them to any length! Contact us for pricing and details.
Wall surface type: Rock-Realistic
Learn More>>
Relief-Feature

™

Climbing Wall

The textured surface of this Traverse Wall® includes a variety of fixed rock shapes that can be used along with the hand holds to traverse the wall. Put climbing skills to the test by making it across the entire traverse climbing wall using only the relief features! The color-coded Groperz® Hand Holds offer a variety of options for climbers to use as they travel across the Traverse Wall®. Green hand holds are the largest and easiest to grip. The yellow holds come in a variety of sizes and offer a light challenge. The red holds are medium sized and provide the most challenge. Climbers can choose to use any color hand hold, or try the extra challenge of climbing using only hand holds of the same color. Our signature Red-Relief Line® is a safety feature that reminds climbers to stay within a distance of three feet from the floor and is a helpful tool for the climbing wall supervisor. The Relief-Feature™ Traverse Wall® is visually interesting and provides extra rock-climbing challenges.

Each 4′ x 8′ Relief-Feature™ Climbing Wall section includes 20 patented Groperz® Route-Setting Hand Holds, 66 preset placement options for mounting hand holds and the Red-Relief Line. A 10′-high version and fire retardant upgrade are available.

Safety mats and a way to "close" the traverse wall® to prevent unauthorized use are recommended. View our Mat-Locking® System.

"I have been very pleased with the quality and durability of the climbing walls, mats and accessories." – Tim McCord, Physical Education Department Chair, PE4Life Academy Director, Titusville Area School District (PA)

Specifications

RELIEF-FEATURE

™

WALL 

Dimensions

8'H x 4'L

8'H x 20'L

8'H x 40'L

10′ x 4'L

10'H x 20'L

10'H x 40'L

Climber Capacity

1 Climber

5 Climbers

10 Climbers

1 Climber

5 Climbers

10 Climbers

Red-Relief Line

Yes

Yes

Yes

Yes

Yes

Yes

# of Hand Holds

 20

100

200

25

125

250

# of Unduplicated Hand Holds

20

 100

120

25

 125

160

# of T-Nuts

 66

330

660

82

410

820

Accepts Route-Setting Hand Holds

 No
 No
 No
No
No
No

Accepts Adaptive Hand & Foot Holds

Yes

Yes

Yes

Yes

Yes

Yes

Installation Time

 1 hr

3 hrs 45 min

 7.5 hrs

1 hr

3 hrs 45 min

7.5 hrs

Age Appropriate

Elementary & Middle School

Elementary & Middle School

Elementary & Middle School

Middle & High School

Middle & High School

Middle & High School

Note: Our traverse climbing walls are available in any length. Since panels are 4′ wide, we recommend lengths that are multiples of 4, but we can accommodate any desired length.

FAQs

What is the wall made of?

The Relief-Feature Wall is constructed of 3/4" plywood and are coated with Groperz™ Tip Top Texture™ to provide a granite-like look and feel.

How do the hand holds attach to the wall?

Groperz Hand Holds are mounted to the traverse wall through t-nuts and held in place with bolts. They are mounted and removed with the use of an included Allen wrench. Since our t-nuts are of premium quality and our bolts of standardized length, removing and moving hand holds is simple and fast.

How many hand holds are included with a traverse wall?

Each 4'x8' panel comes with 20 Groperz Hand Holds and 66 t-nuts, offering a variety of options for varying difficulty levels.

Can we take the wall down and move it?

Yes, walls may be removed from existing sites and reinstalled in alternate sites. New mounting hardware will be required for installation.

What activities can we do with the wall?

A Climbing the Walls™ activity guide is available for purchase. This resource contains a rich variety of fun, challenging, and age-appropriate climbing wall activities for use on your wall.

What is the added liability or insurance need?

Product Liability Insurance backs all Everlast Climbing products. It is also recommended that you consult with your insurance carrier to see if they require any additional insurance. With traverse walls, additional coverage is not typically required since the climber's feet are not more than 3½' off the floor and safety mats provide 6' of fall zone protection.

What do we need for safety surfacing?

Mats are an important safety component of your climbing wall. Everlast Climbing offers safety mats in two thicknesses: 2" and 3". Mats are constructed of polyethylene foam enclosed in an 18-oz. polyester reinforced vinyl cover. They come in 4' x 6' sections and are available in Royal Blue, Red and 14 custom colors (for an additional cost).

How can we prevent unauthorized climbing?

Our patented Mat-Locking® System closes and locks your climbing wall when you want to restrict access. The system is cordless and really easy to use. Simply hang mats onto the climbing wall by hanging the webbing loops onto specially-designed hand holds. Push up the red security latch and lock with a few turns of the security bold. The mats Velcro® to one another and attach to the base of the climbing wall with nylon tabs. A "No Climbing" decal is printed on the outer side of the mats to serve as notice that the climbing wall is closed.

Are we limited to a traverse wall that is either 20' or 40' long?

No. We can build a traverse wall any desired length. Our website provides pricing and information for those two lengths, but we often build climbing walls with other lengths. Contact us and we will be happy to provide you with pricing and more details.

Shipping and Install

Shipping

Your traverse climbing wall will ship to the delivery address you specify via truck.  We cannot deliver to PO Boxes.

You will need to meet the truck, break down the crate, and carry each piece of the climbing wall inside. This can take as little as 25 minutes with a group of 4 – 6 people. Lift gate is not available on any orders. If unloading is not an option for you, Inside Delivery is available. Please contact your salesperson to add this to your order.

Please inspect all pallets and boxes before signing for the delivery. If there is any damage, you MUST note the damage on the delivery receipt BEFORE you sign it, or a damage claim cannot be filed with the trucking company. This is very important – please notify your receiving personnel and the person who usually signs for deliveries of this fact. Call us if there is any apparent damage and we will work with you to resolve the problem. Do not throw away any damaged material.

Please protect your shipment until the installation takes place. Any damage occurring after receipt is your responsibility.

Installation

Everlast Climbing offers professional climbing wall installation. Installation can also be completed by maintenance staff or anyone familiar with construction and building. A 20′ Relief Feature Wall will take roughly 3 to 4 hours to install.  Installation is done by drilling panels into place using a 1/2" hammer drill bit, and securing them using sleeve anchors. For more information, download complete Installation Instructions: