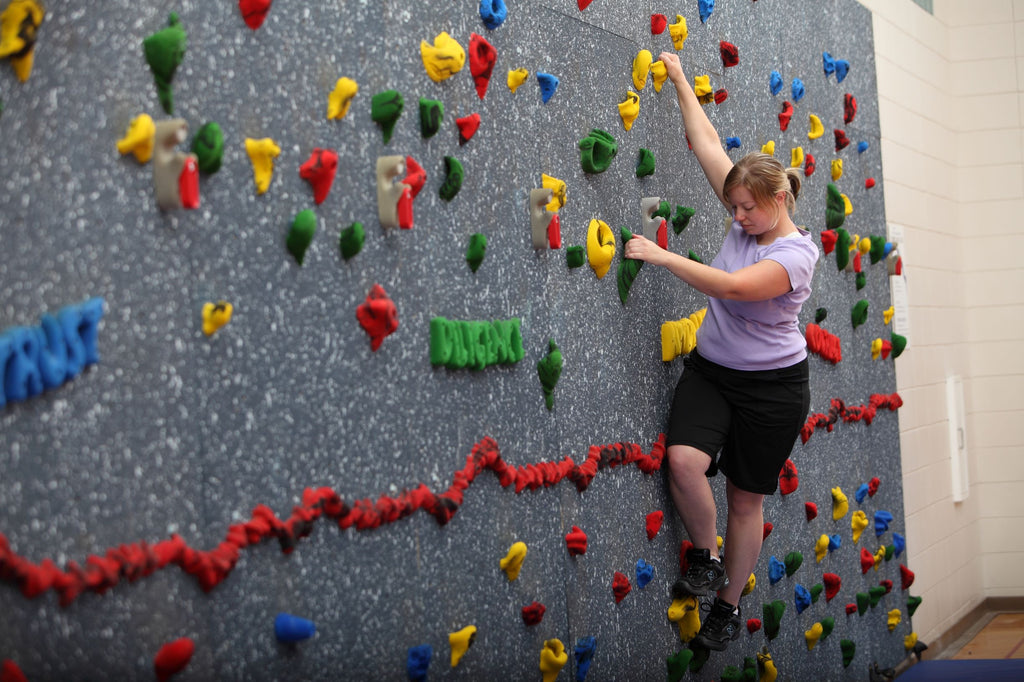 Sharing the Wall: Ways to Use the Climbing Wall Beyond Physical Education – Part 2
Schools can help their students, teachers, staff and community lead more active lives by using their climbing walls beyond physical education class. In other words, we think physical educators should share the wealth by sharing their wall.
In a three-part blog series, we are offering tips each week for sharing a Traverse Wall®. The ideas offered here can be part of your Comprehensive School Physical Activity Program (CSPAP) and will help you join the growing Active Schools movement. (If you missed it, be sure to read our first blog post about sharing the wall with classroom teachers.)
Our second idea is to share the climbing wall with teachers and staff. This will not only bring beneficial physical activity to the lives of the adults at your school but will also model active lifestyles to students and contribute to an overall culture of physical activity at your school.
Climbing with Teachers & Staff
Training the other teachers and staff at your school about the climbing wall is an important part of making them comfortable enough to want to climb. Not everyone has climbed before. And if you have a horizontal climbing wall, they may not even understand that the goal is to make your way across the wall instead of up the wall. Once they understand how to use the climbing wall, they're more likely to join in on any activity you plan. If you have a top-rope climbing wall, this training will need to be more extensive, and you'll have to limit the number of people you can have at one time, so there may need to be multiple sessions.
Once everyone is familiar, and trained, you can invite staff to climb. If your school has a Wellness Committee, it could be one of their initiatives to have a Staff Open Climb, for example, before or after school once a week or once a month. Adding in some challenges, like the Go Gecko Challenge, for teachers and staff to try is a fun motivator and will keep climbers coming back for more.
The climbing wall is also perfect for team building and can be a part of staff meetings. All the activities that you can do with your students, you can also do with adults. Try Target Practice with your colleagues! They will have a blast. Getting your fellow teachers and staff climbing will not only help add some physical activity to their day, but will also model active behavior and will  demonstrate that physical activity, and climbing, is for all ages, not just children.
Interested in learning more about Comprehensive School Physical Activity Programs? Join PlayCore's webinar on March 15-19, 2021. Use registration code: CLIMB