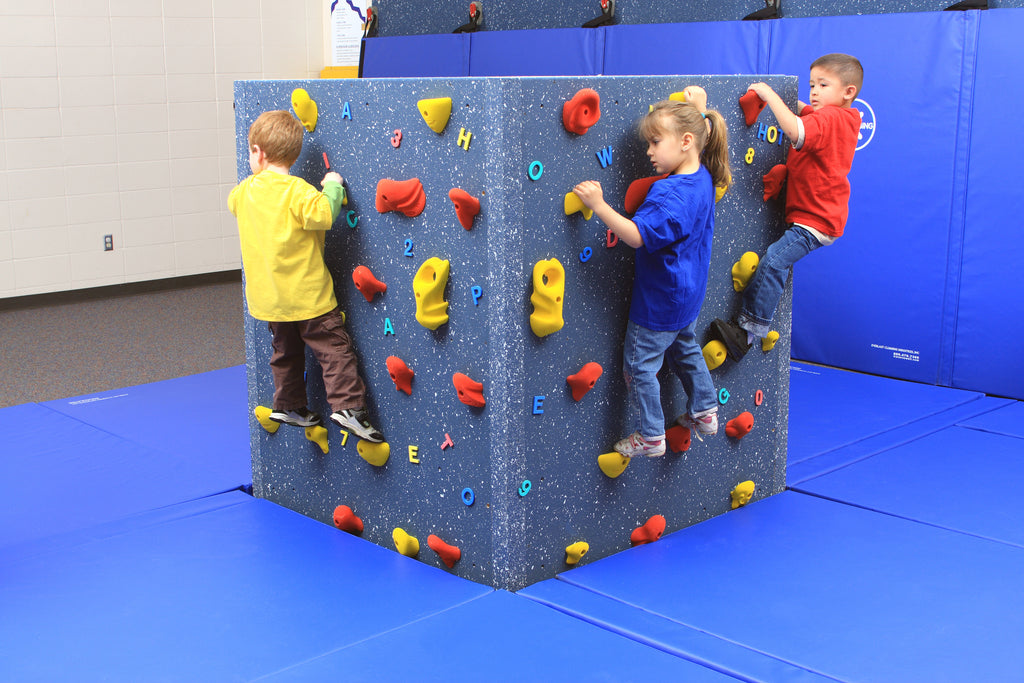 No Wall Space? No Problem! Freestanding Climbing Wall Options
If your school or organization does not have any open wall space, you might think that you cannot get a climbing wall. Just because you can't mount your climbing wall doesn't mean you can't have one. Here's an overview of our free-standing climbing wall options:
360° Wall
Children can enjoy endless climbing on the 360° Wall. The 8'H x 8'W cube allows climbers to traverse around and around as long as their muscles and determination allow! This freestanding climbing wall is for children ages 5 to 12. Add our Mat-Locking® System for safety surfacing while there are climbers and access prevention when you don't want climbers on the wall.
We even have a preschool version of this climbing wall. The WeeKidz® Tyke Tower stands 5' high and 4' wide on each side. It features a magnet-accepting surface, magnets and a Discovery™ Plate to enable learning while climbing. This freestanding Traverse Wall is suitable for children ages 3 to 5. There's a Mat-Locking System available for this version, too.
EverActive® Adjustable Climbing Wall
This climbing wall is not only freestanding, but the angle of the wall is adjustable. The EverActive Adjustable Climbing Wall is the perfect climbing wall for adolescent to adult climbers and can accommodate a wide variety of skill levels due to the adjustable nature of the panels. Additionally, an LED lighting system guides climbers through different routes created by using the free app. The EverActive Wall is 8'W x 2.5'D x 14'H (13'H above landing surface).
Playground Wall
Is your facility lacking wall space and floor space? If so, take it outside with our freestanding Playground Wall which is climbable on two sides. Climbers have a fun challenge trying to make it all the way around the wall, climbing across panels on both sides. It's available in two heights: 6' (for ages 3-5) and 8' (for ages 5-12). There's a choice of clear or gray panels. It's IPEMA certified and meets ASTM A-82/A-185. It's the perfect addition to any playground or open outdoor space
Pool Climbing Wall
Just when you think there might not be a climbing wall for your organization, keep in mind that if you have a pool, you could add a Kersplash® Pool climbing Wall. This can be installed in an indoor or outdoor pool and, depending on the depth of your pool, can be 8' to 16' high.