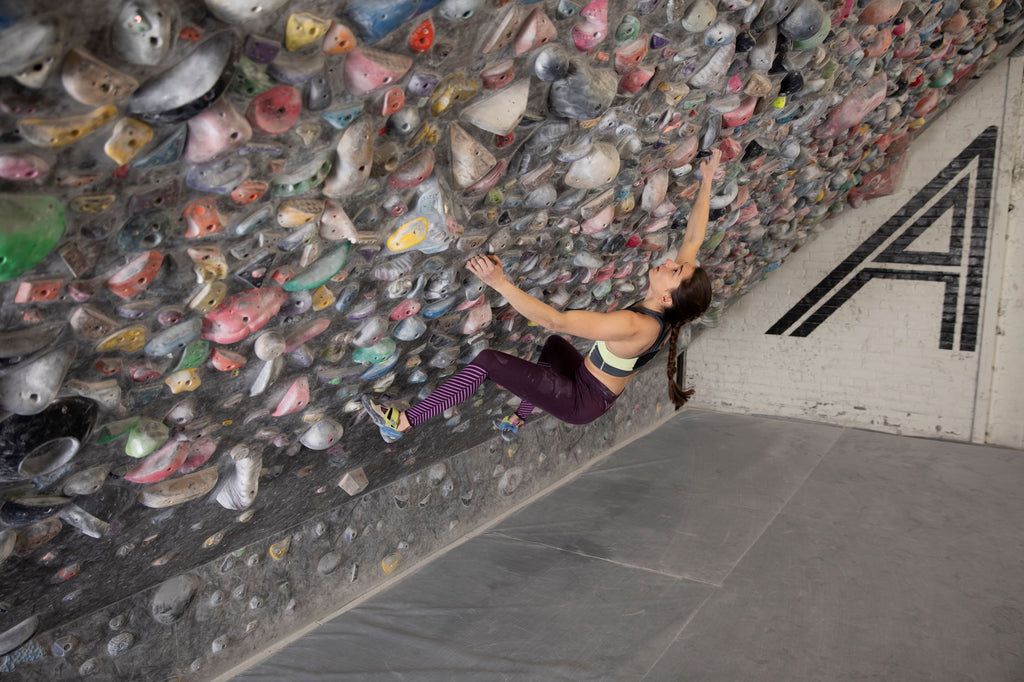 Everything You Need to Know about Climbing in the Tokyo Summer Games
The Summer Games are fast approaching, and we are more excited than ever because climbing is making its debut! Because climbing is new to the games, we had a lot of questions and are excited to share what we found out.
What is Sport Climbing?
Sport climbing is the official term for climbing in the Summer Games. It includes three climbing disciplines: lead climbing, bouldering and speed climbing. 
What are the Climbing Events?
There is a combined format for Sport Climbing and each of the disciplines is included.
In lead climbing, the climber will have six minutes to climb as high as possible on a 45-foot-high climbing wall, using a safety rope and quickdraws on the way up to protect against a fall. If the competing climbers reach the same spot on the wall, then whoever got there the fastest will win. Climbers will not get to see the wall in advance or watch others climb. They will only have a couple of minutes before the competition to study the routes and determine a strategy.
Bouldering will take place on a shorter, 13.5-foot-high, bouldering wall where athletes take turns attempting to climb as many routes, or "bouldering problems," as possible in 4 minutes. Like in the lead climbing event, climbers will not get to see the climbing wall or other climbers until right before they compete.
Speed climbing is self-explanatory. It involves two climbers racing against each other to get to the top of a 45-foot-high climbing\ wall set at an angle of 95 degrees. Their routes are identical, and each climber is connected to an autobelay system for safety. The first one to get to the top is the winner.
How are Scores Calculated and How Many Medals will be Awarded?
Each athlete will compete in all three categories and final rankings will be determined by multiplying the climbers' rankings in each discipline. One set of medals for men and one set for women will be awarded to the athletes with the lowest scores.
How Many Athletes are Competing in Sport Climbing?
There is a total of 40 climbers competing – 20 men and 20 women.
What Climbers will represent Team USA?
The USA climbing team includes Kyra Condi, Brooke Raboutou, Nathaniel Coleman and Colin Duffy. Here are a few stats and facts about each of them:
Kyra Condie

24 years old
Born in St. Paul. MN and lives in Salt Lake City, UT
Fun Fact: She loves animals and has been a vegetarian since she was 8 years old.

Brooke Raboutou

20 years old
Born and lives in Boulder, CO
Fun Fact: She has been climbing since she learned to walk and was the youngest female to climb 5.13b and 5.13d and to send 5.14b at the ages of 9, 10 and 11 respectively.

Nathaniel Coleman

24 years old
Born in Murray, UT and lives in Salt Lake City, UT
Fun Fact: He enjoys playing Kendama, a traditional Japanese skill game that requires good hand-eye coordination, reflex and balance.

Colin Duffy

17 tears old
Born and lives in Broomfield, CO
Fun Fact: He likes STEM classes best and will pursue engineering as a career one day.
When is the Sport Climbing Event?
The Sport Climbing Event begins on Tuesday, August 3 and continues through Friday, August 6. The schedule includes qualifying and final rounds for men and women. Keep in mind that Tokyo is 14 hours ahead of our headquarters in Minnesota.
How Can I watch the Tokyo Summer Games?
NBCUniversal has the broadcast rights to the games. They will broadcast on TV and will offer coverage on nbcolympics.com and through the NBC Sports app. Additionally, events can be watched via their Peacock streaming service.
Where is the Sport Climbing Event Taking Place?
The Sport Climbing event is taking place at the Aomi Urban Sports Park located in the waterfront Aomi district and close to the Athletes' Village. The venue capacity is 8,400.
Will Sport Climbing be in the Next Summer Games?
Yes! Sport Climbing will be included in the Paris Summer Games in 2024, but with some changes. There will be two events. Speed Climbing will be its own event and bouldering and lead climbing will still be combined as one event. This means two sets of medals for men and two sets for women. The number of athletes also increases to 72 athletes—20 men and 20 women in the bouldering/lead climbing event and 16 men and 16 women in the speed climbing event.
Fun Facts About the Summer Games
Three other sports besides climbing are making their debut at the Tokyo Summer Games: Karate, skateboarding and surfing.
The Games are still labeled "2020" despite their one-year postponement due to the pandemic.
The mascots for the Tokyo Summer Games are robots named Miraitowa Robot and Someity Robot. They can wave, bow and greet athletes and spectators with a variety of human-like facial expressions.
This is the second time that Tokyo has hosted the Summer Games. The first time was in 1964.
The medals are made from recycled electronic devices (digital cameras, laptops, handheld games and mobile phones) that were donated by Japanese citizens.