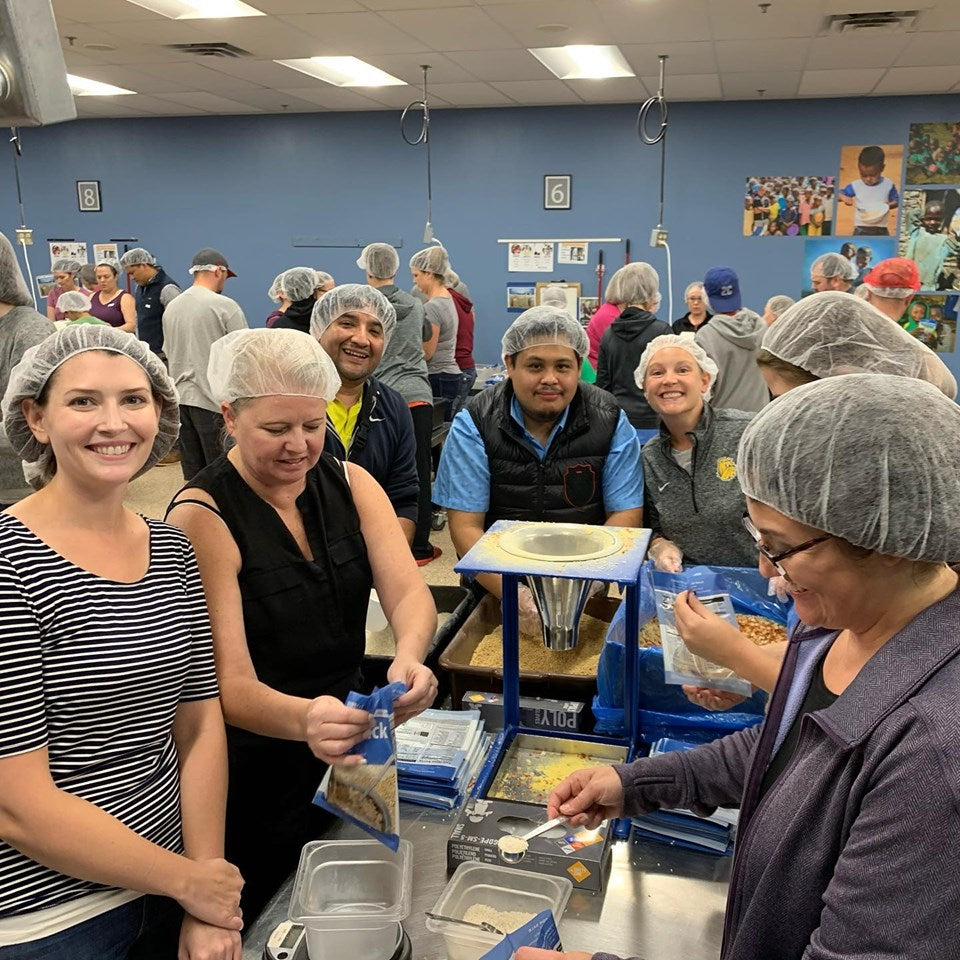 Every year since 2009, employees here at Everlast Climbing have participated in what we call our "Day of Caring". During our Days of Caring, Everlast Cimbing employees take time after work to help those in need in our community. We believe in enhancing the quality of life in the communities where we live, work and play and have enjoyed being able to help out a variety of different charities over the last decade. We take great pride in the charity work we have done over the years, and would like to share some examples of our community service.
Day of Caring 2009: November 17, 2009 was the first annual "Day of Caring" event. Office and production staff at Everlast all got together to manufacture and install an 8' x 20' Magna® Traverse Wall Package at the Washburn Center for Children, a nonprofit agency which serves children and families throughout Minnesota. We installed the wall in Washburn's gross motor room where it has helped serve children of all abilities throughout their different programs. We are glad we could provide a wall for such a great company, and are even happier that it has been such a beneficial addition to the center.
Day of Caring 2012: Staff at Everlast Climbing volunteered with two charities for 2012's Day of Caring event. First, we volunteered at a Food Drive where 72 pounds of food was collected for Second Harvest Heartland, a large hunger-relief organization based in the Upper Midwest. This was enough food to feed 60 people! We also distributed groceries at Obama Elementary School through the Meals for Minds program, a mobile food pantry that brings food to students and families in need. We really enjoyed interacting with people from our community and making a difference in their lives.
Day of Caring 2018: In 2018, Everlast held its Day of Caring at the Twin Cities Kids in Need Foundation Resource Center, a charity which supplies students and teachers from schools with high poverty rates with free school supplies. We boxed over 400 backpacks full of school supplies and stuffed 2,500 pencil pouches with school supplies. At the end of the day, we helped provide supplies to 2,932 students! We were very grateful to have the opportunity to help prepare students and teachers for a successful school year. 
 Day of Caring 2019: This year, Everlast Climbing employees helped package meals for Feed My Starving Children. Feed My Starving Children is a wonderful non-profit organization that packages and distributes food to developing nations around the world. We packed 101 total boxes of food which equates to 21,816 meals and 59 kids fed for a whole year. The many meals that we helped package will provide nutrition to children around the world who may not be able to eat otherwise. We were very thankful to have been able to help out such a great cause.
Visit our Days of Caring web-page to learn more about our other Day of Caring events.