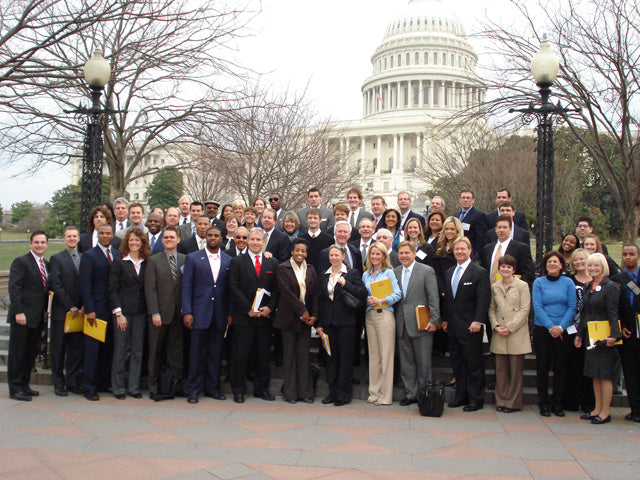 Everlast Climbing Continues To Advocate For Fitness Funding
Despite challenging economic times, the need for improved youth fitness remains urgent
MENDOTA HEIGHTS, MN – March 21, 2011 – For a second year, representatives from Everlast Climbing traveled to Capitol Hill to participate in the annual National Health Through Fitness Day. Joining them were celebrity athletes, as well as sporting goods and fitness manufacturers, physical educators and association leaders in an effort to highlight the need to fund programs encouraging physical activity. PlayCore and Everlast Climbing were two of more than 40 corporate sponsors of the March 2 event, which was organized by the Sporting Goods Manufacturers Association.
The consortium met with U.S. Representatives and U.S. Senators to discuss the importance of federal funding to support quality physical education in schools and encourage more physical activity for families by making it more affordable. Specifically, Congress was asked to approve the Carol M. White Physical Education Program (PEP) in Fiscal Year 2012. This program provides the only dedicated federal money to school districts and community-based organizations for physical education and innovative physical activity methods.
Kim Harder and Kurt Muchow from Everlast Climbing remarked that support for PEP funding makes a big difference in the health and fitness of our country's youth. "It was a magical experience to rally around such an important cause, and it was inspiring to see so many of my childhood sports heroes talk about how physical education got them where they are today," said Muchow.
Harder and Muchow held meetings with nine congressional offices and personally met Congresswoman Linda Sánchez of California, who said she sees firsthand the value of the PEP program as schools in her congressional district have benefited from $1.4 million in PEP funding over the years.
A recent study by the Physical Activity Council reports that the more physical education children receive the more active they are outside of school. In addition, people who never had physical education in school are 2.7 times more likely to be sedentary compared with those who participated in physical education. In a time when more and more Americans are inactive, the need for programs like PEP is crucial to the health of our nation. "It was great to see such tremendous support for PEP across party lines," said Harder.
"And it was an amazing experience to be a part of democracy in action and to be around others who share our corporate commitment to improving youth fitness."