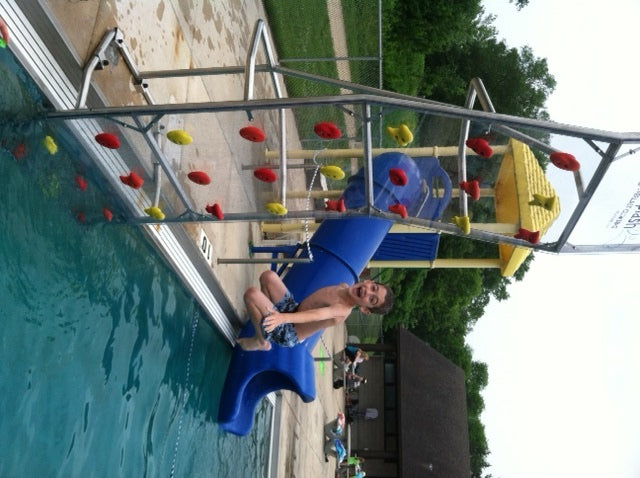 Even with Winter's Low Temps, Camp plans for Record Highs with Pool Climbing Wall.
JCC Camp Butwin plans for summer with Pool Climbing Wall as attraction at camp pool.   
EAGAN, MN December 16, 2013.  Director of Youth and Family Services and Lodge on the Lake at Camp Butwin, Alyssa Golob, begins gearing up for the summer season before the snow flies in the winter. At the top of her list for attractions to entertain and engage visitors is the camp's pool and their new Kersplash® Pool Climbing Wall.
Located in Eagan, MN on Lake O'Brien, Camp Butwin boasts over 88 wooded acres with amenities including a lakefront beach, ropes course, climbing tower, archery range and more. Topping the list of fun at the camp is the pool's new climbing wall.
Camp Butwin installed the pool climbing wall at the beginning of camp season last year. They decided last minute to add the pool climbing wall and only "had 10 days to get it purchased and installed so it would be open for our first day of camp," says Golob. They chose a Kersplash Pool Climbing Wall from Everlast Climbing which features see-through panels that campers climb up and then jump off into the pool. "We love the clear panels, as it ensures no visibility problems throughout the pool."
Everlast Climbing's Director of Marketing Tracy Whitney says, "The Pool Climbing Walls are becoming increasingly popular at camps because they are always looking for ways to keep "teens and tweens" engaged and active."
Golob, along with campers and families, also loves the addition of a physical challenge at the pool and wants to provide "physical opportunities to encourage health and taking care of your body in a fun way." Not only is it a physical push, Golob believes the Kersplash Wall has "been [a] vehicle that allows personal growth. One week you get three rows up and by the end of the summer you have climbed 9 feet. Amazing!"
Golob and her staff decided to add the pool climbing wall because it provided "an opportunity for campers to encourage and cheer each other on. They love the success they feel when the reach the top. It is more than just a big splash into the pool at the end. It is, 'Yeah! I did that.'"