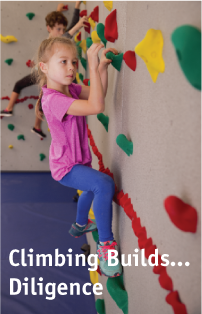 Climbing Builds...Diligence
Rock climbing is not only fun and great for the development of physical fitness, it also builds many positive character traits. We will be highlighting five positive traits in a blog series. Last week, we discussed Courage. Next up is Diligence. Responsibility, Kindness & Caring and Respect will follow in the weeks to come, so please check back.
Diligence, or showing persistent effort, is a trait often required while rock climbing. No matter what size the climbing wall is, it typically isn't easy to make it up or across the wall on the first attempt. To succeed, multiple tries are needed, often over the course of days, weeks or even months. Being able to continue trying, in the face of challenge, is a desirable trait. This diligence can transfer from the climbing wall to everyday life and is something that helps people accomplish their goals and dreams.
One way to help climbers practice and develop diligence is by providing new experiences and challenges on the climbing wall. Once they have mastered the safety rules and basic climbing skills, they're ready to move onto climbing games and activities. The Traverse Wall Challenge course is a versatile accessory that brings unlimited new opportunities to the climbing experience. Or try the Climbing Wall Cone Challenge activity that is an exciting challenge for climbers ages 6 and up.