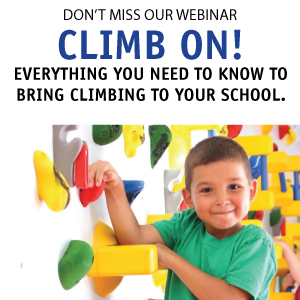 Climb On! Webinar: Everything You Need to Know to Add Climbing to Your Program
Join us on Tuesday, April 28 from 2:30-3:45 CST for an informative live webinar. Attendees will: 
Learn why climbing is a great addition to any program.
Discover how rock climbing builds physical, social and emotional skills.
Receive guidance for acquiring a climbing wall, including an overview of wall types, planning steps and safety protocols.
Be introduced to a variety of dynamic climbing wall activities.
We're excited to help you bring the world of climbing to your program!