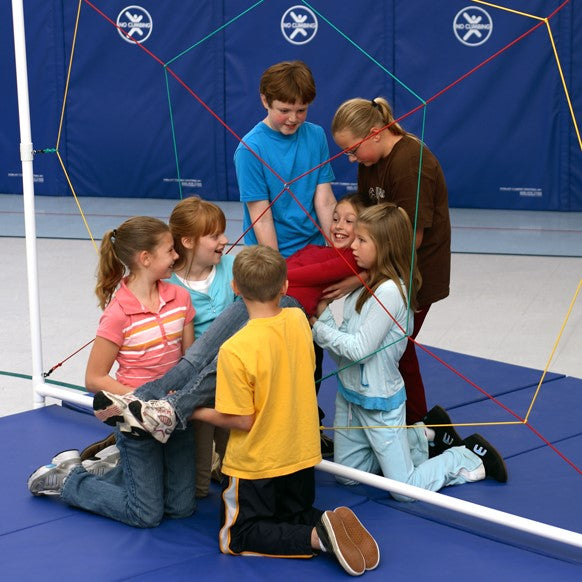 Best Team Building Activities - Off the Climbing Wall
Teambuilding activities are a great complement to any rock-climbing program. They can be stand-alone events, or they can be facilitated as stations right along with the climbing wall. Here are our favorite teambuilding products that help to develop cooperation, communication, problem-solving skills, trust and more. Give them a try and let us know how it went in the comments!
Meteorite Mission
Meteorite Mission challenges up to 10 "astronauts" with moving a "meteorite" from one station pole to another using separate ropes attached to a ring. Steady movements, problem solving, balance and clear communication are required for success. Many variations are possible to increase the difficulty level, keeping it fresh and challenging as your teams develop over time.
Don't Lose Your Marbles
This fast-paced challenge requires quick-thinking, teamwork and communication skills to get one or more marbles through all tube sections without them falling to the floor. Don't Lose Your Marbles is small, includes a storage bag and requires no assembly. It's easy to conduct the activity anywhere – in a gymnasium, classroom, on a field trip or outdoors.
Spider's Web
This classic trust-building task involves the team safely passing one of its members through the Spider's Web. To be successful, team members must display maturity, reliability, trust, cooperation and excellent communications skills. Some assembly is required, and we think it can add to the fun – make it the first part of the activity when working with participants ages 12 and up.
All Aboard
As it sounds, All Aboard, is about getting everyone on board – starting off on the largest platform and then moving to smaller ones. Problem solving, cooperation, coordination and communication are really put to the test. The wood platforms next tighter for easy storage and have glides on the bases to protect floor.
Not just for children -- adults have fun and benefit from teambuilding activities, too!

Note: All of our teambuilding products include assembly instructions (if applicable) and detailed activity guides, with sample reflection/processing questions, to help you facilitate fun and rewarding activities.