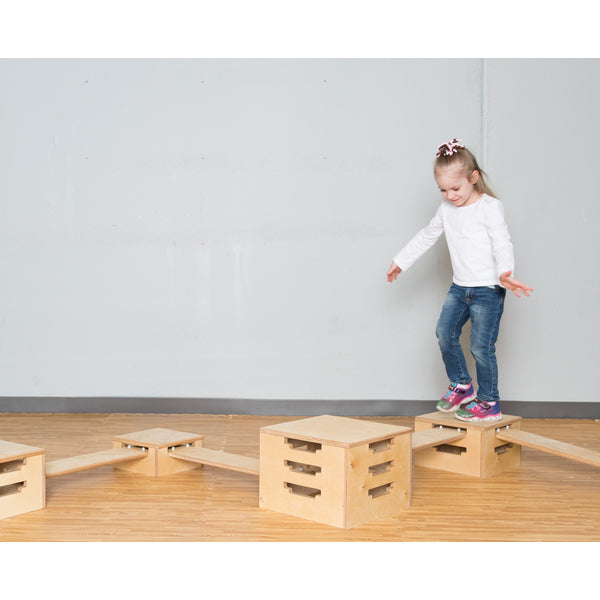 WeeKidz® Balance Boxes
Lightweight, youth balance boxes and planks made of beautiful birch wood. Includes six different sized balance boxes and six planks.
WeeKidz

®

Balance Boxes

These lightweight balance boxes offer a fun balancing challenge and present opportunities to use the boxes in other activities. Designed with young children in mind, our boxes are made of beautiful, smooth birch wood. They are very firm and durable. Each box has slots for you to place the plank at desired height. The planks easily hook in to the boxes and boxes can be arranged in a variety of patterns to develop balance and coordination. Activity suggestions with ideas of how to use the balance boxes are included.

 

The Weekidz Balance Box set comes with three different boxes. The small box measure 9 5/8 x 9 5/8 x 4 5/8. The medium box measure 11 3/4 x 11 3/4 x 7 3/8. The large box measures 13 7/8 x 13 7/8 x  10 3/8. Each plank measures 23 3/4 x 5 3/4 x 5/8. 

Specifications

WEEKIDZ

®

BALANCE BOX SET
Dimensions
Weight (lbs)
Small Box

9 5/8 x 9 5/8 x 4 5/8

4

Medium Box

11 3/4 x 11 3/4 x 7 3/8

6

Large Box

13 7/8 x 13 7/8 x 10 3/8

10

Plank

23 3/4 x 5 3/4 x 5/8

2

 

FAQs

What types of activities can children do on the balance boxes?

A sheet of Activity Suggestions is included with purchase. There are great opportunities to connect movement and learning with our varied balance boxes. This set offers more than just a balance course. For example: you can use the boxes to help develop gross motor skills by putting items in the boxes and having the children carry them. 

How to I clean the balance boxes?

The boxes are easy to clean. Simply wipe with mild soap and water.

Are the planks sturdy?

Yes. The planks hook securely into the boxes to create a sturdy surface. However, we do recommend that kids do not jump on these planks for their own safety.

Shipping and Install

Shipping

Your balance boxes and planks will ship to the delivery address you specify via UPS.  We cannot deliver to Post Office Boxes.

Please inspect all pallets and boxes before signing for the delivery. If there is any damage, you MUST note the damage on the delivery receipt BEFORE you sign it, or a damage claim cannot be filed with UPS. This is very important – please notify your receiving personnel and the person who usually signs for deliveries of this fact. Call us if there is any apparent damage and we will work with you to resolve the problem. Do not throw away any damaged material.