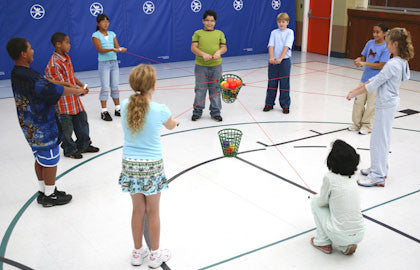 Toxic Waste Transfer
Transport "toxic waste" to the neutralizing container in this classic cooperative game.
Toxic Waste Transfer

In Toxic Waste Transfer, participants must work together to move and dump the "toxic waste" into the neutralizing container. Using only handles of the ropes attached to the transport basket, 10 people team-up to clean-up. Set includes transport basket with 10 detachable ropes, toxic waste (16 balls), neutralizing container (basket) and activity guide.

Toxic Waste Transfer Activity Guide

The Toxic Waste Transfer activity guide includes step-by-step instructions on how to set-up and perform the task.  Sample processing questions and variations on the activity are also included. Team building activities are designed to accommodate 10 students.  Modifications can be made to make the challenge easier or more difficult, depending on the skill level of participants.

Toxic Waste Transfer, like other group initiative tasks, is designed to offer "real" or "perceived" mental, physical, social and emotional challenges that are fun and rewarding. Within a trusting and supportive environment, these challenges are often successfully met through team problem solving.

Specifications

 

TOXIC WASTE TRANSFER

Participants Involved

10

Age Appropriate

Elementary, Middle & High School

Contains

Activity Guide, 2 transport baskets, 10 detachable ropes (5" long) with handles and clips, 16 plastic balls

FAQs

How many people can participate in Toxic Waste Transfer?

Up to 10 people can participate. The ropes easily attach and detach from the transport basket to accommodate different sized groups.

The height of students really varies in my class. Will this activity be hard?

No, the length of the rope is easily adjusted by rolling it onto the handles. Students can make the rope whatever length works best for them.

Shipping and Install

Shipping

Product will ship via UPS.