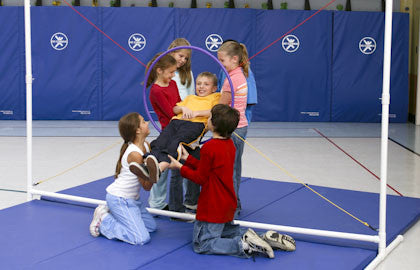 Porthole Escape™
Work together to escape through the porthole. Don't go down with the ship! Frame NOT included. Must be purchased with the Spider's Web
™
Team Building Challenge.
Porthole Escape

Don't go down with the ship! In Porthole Escape™ participants work together to save each other by climbing or passing each other through the porthole. Team Building Activity comes with activity guide and Porthole attachment. Activity guide includes assembly instructions for mounting to the Spider's Web frame. Frame NOT included.  This product is an upgrade that can be used after you have purchased the Spider's Web Team Building Challenge.

Porthole Escape, like other group initiative tasks, is designed to offer "real" or "perceived" mental, physical, social and emotional challenges that are fun and rewarding. Within a trusting and supportive environment, these challenges are often successfully met through team problem solving.

Specifications

PORTHOLE ESCAPE
Dimensions

Attaches to 10'W x 7″H frame (frame not included)

Participants Involved

8-10

Age Appropriate

Elementary, Middle & High School

Contains

Activity Guide, hula hoop, colorful bungee cords with clips to attach to PVC frame

FAQs

How many people can participate in Porthole Escape?

8-10 people can participate.

Do I need safety surfacing?

Yes, we recommend placing safety mats under the challenge.

Shipping and Install

Shipping

Porthole Escape ships via FedEx.