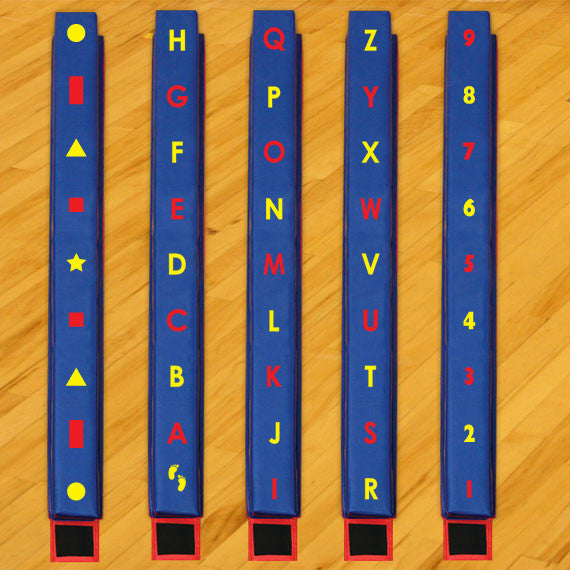 WeeKidz® Balance Beams
Lightweight, preschool balance beams featuring letters, numbers and shapes.
WeeKidz

®

Balance Beams

These lightweight, preschool balance beams offer a fun balancing challenge and learning opportunities with what's printed on top. Choose from shapes, numbers and letters. Designed with young children in mind, our beams are constructed of 3″ foam enclosed in an 18 oz. vinyl shell. They are very firm and durable. Each beam has a hook and loop fastening system on its end so you can easily attach multiple beams and create interesting pathways to develop balance and coordination. Activity suggestions with ideas of how to use the preschool balance beams are included.

Each WeeKidz® beam is 4″ W x 71″ L x 3″ H.  Number, letter, shape and world number balance beams feature a royal blue top surface with a red base. 

Specifications

WEEKIDZ

®

BALANCE BEAMS
Set

Single Beam

Set of 3 Beams

Set of 5 Beams

Beam Dimensions

71″L x 4″W x 3″H

17′ 9″'L x 4″W x 3″H*

29′ 7″L x 4″W x 3″H*

Participant Capacity

1 Participant

3 Participants

3 Participants

Age Appropriate

2-5yrs

2-5yrs

2-5yrs

* Length if all beams are attached and made into one continuous straight beam

FAQs

What types of activities can children do on the balance beams?

A sheet of Activity Suggestions is included with purchase and is customized to the type of beams you select. There are great opportunities to connect movement and learning with our varied balance beams. Here's one example for use with any beam: Place bean bags across the beams. As children approach each bean bag, they bend down, pick it up and toss it at a nearby target or basket.

How do I clean the balance beams?

The beams are easy to clean. Simply wipe with mild soap and water.

Shipping and Install

Shipping

Your balance beams will ship to the delivery address you specify via UPS.  We cannot deliver to Post Office Boxes.

Please inspect all pallets and boxes before signing for the delivery. If there is any damage, you MUST note the damage on the delivery receipt BEFORE you sign it, or a damage claim cannot be filed with UPS. This is very important – please notify your receiving personnel and the person who usually signs for deliveries of this fact. Call us if there is any apparent damage and we will work with you to resolve the problem. Do not throw away any damaged material.