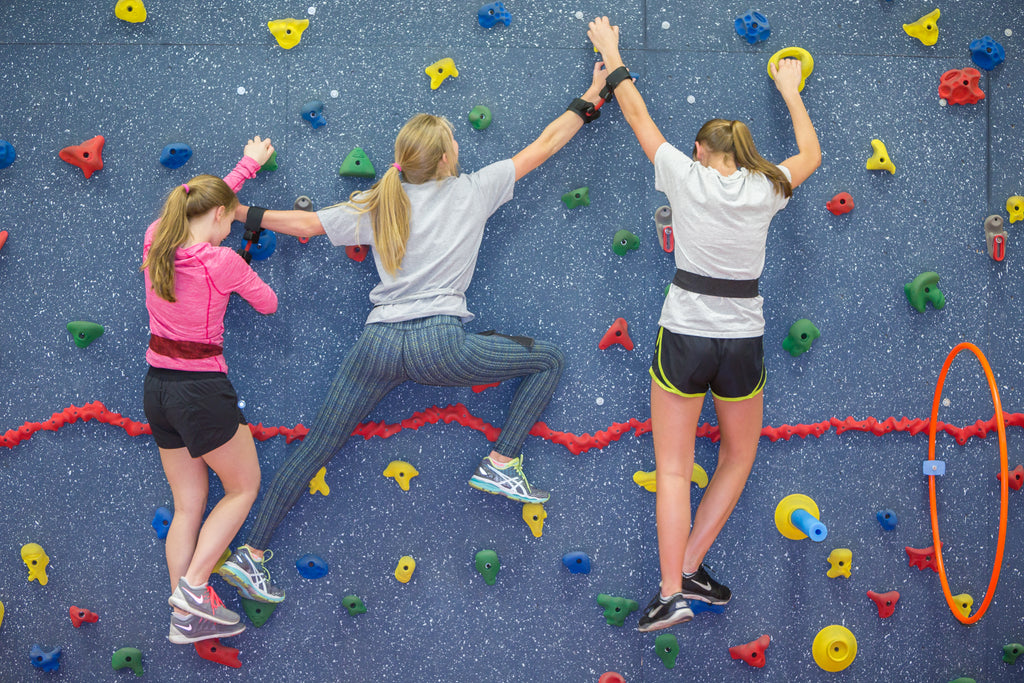 For the month of February, we are featuring past guest blog posts. We are fortunate to have partnered with exceptional educators and therapists who have generously shared their climbing wall experiences as guest bloggers. We are eager to share them again with you. This one from 2016 still rings true!
Thinking Outside the Box…Climbing is a Team Building Success!
The Stillwater Area Public Schools Girls Track and Field Team took full advantage of their Junior High climbing walls for the start of the girls' track season. During an overnight team building experience, the climbing gym was a highlight of the event, challenging students to work cooperatively to complete physical and mental problems. During one of our climbing challenges, the students attempted to climb as far as they could with partners, attached at the wrists with bungees. They traveled along the traverse wall, going over, under and through obstacles along the way. It was great fun and a memorable experience they will cherish for a lifetime.
About the Author: Andy Olson currently teaches physical education at Stillwater Junior High School in Stillwater, MN.  He served as Stillwater Area High School Head Girls Soccer Coach for 17 years, Head Wrestling Coach for 10 Years, Junior High Wrestling Coach for 8 years and Assistant Girls Track Coach for 21 years. He was Minnesota Coaches Association Coach of the Year in 1994 and was inducted into the Minnesota State High School Soccer Coaches Association Hall of Fame in 2001. Andy served in the Minnesota Army National Guard from 1985 to 2005 (retired). He holds a B.S., M. Ed. and K-12 Principal License. Photos courtesy of Red Racer Studio