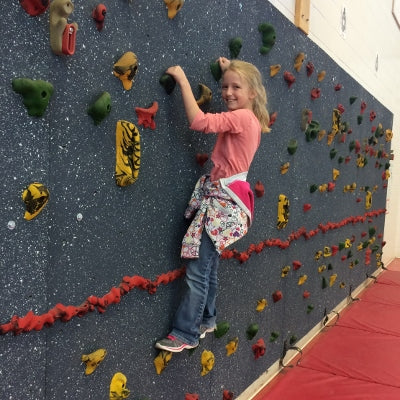 For the month of February, we are featuring past guest blog posts. We are fortunate to have partnered with exceptional educators and therapists who have generously shared their climbing wall experiences as guest bloggers. We are eager to share them again with you. Here's one that dates back to 2016.
The Power of Physical Education & Fitness Challenges by Luke Garringer
At Central Elementary School in Kearney, Nebraska, we are fortunate to have a 60-foot long traverse climbing wall in our gym. During one of our climbing activities, the students challenge themselves to climb as far as they can along the climbing wall or to the end (14th panel) without getting down. One day, a small 2nd grade girl named Averie was climbing during class and was almost to her best score (5th panel) when her foot slipped off the rock hold and she bumped her chin and elbow on the wall. What you need to know is Averie has a mild disability causing very limited use of her foot. I checked with her immediately to see what I could do to help. I asked her if she wanted to rest, go to a different activity, or if she needed anything. She calmly and politely said, "No, I just want to go back to the start and try again." I could only manage to say, "Awesome," as I tried to keep my heart from jumping into my throat. This little girl, with an enormous will to succeed, reminded me why the experiences in physical education with a climbing wall are extremely valuable. The climbing wall has provided countless opportunities for students to challenge themselves and feel good about their personal accomplishments and overcoming failures appropriately. Averie is currently in 4th grade and has since completed the entire Traverse Wall®.

About the Author:
Luke Garringer is in his eighth year of teaching K-5 Physical Education at Bryant and Central Elementary Schools in Kearney, Nebraska. He has also coached Track and Cross Country at Kearney High School since 2005. He believes that Physical Education is a unique and POWERFUL opportunity to teach kids mental and emotional skills that are essential at every stage regardless of what they choose to do with their lives. The climbing wall is one of the ways PE can teach kids about persistence, self-esteem, curiosity, self-control, conscientiousness and grit.