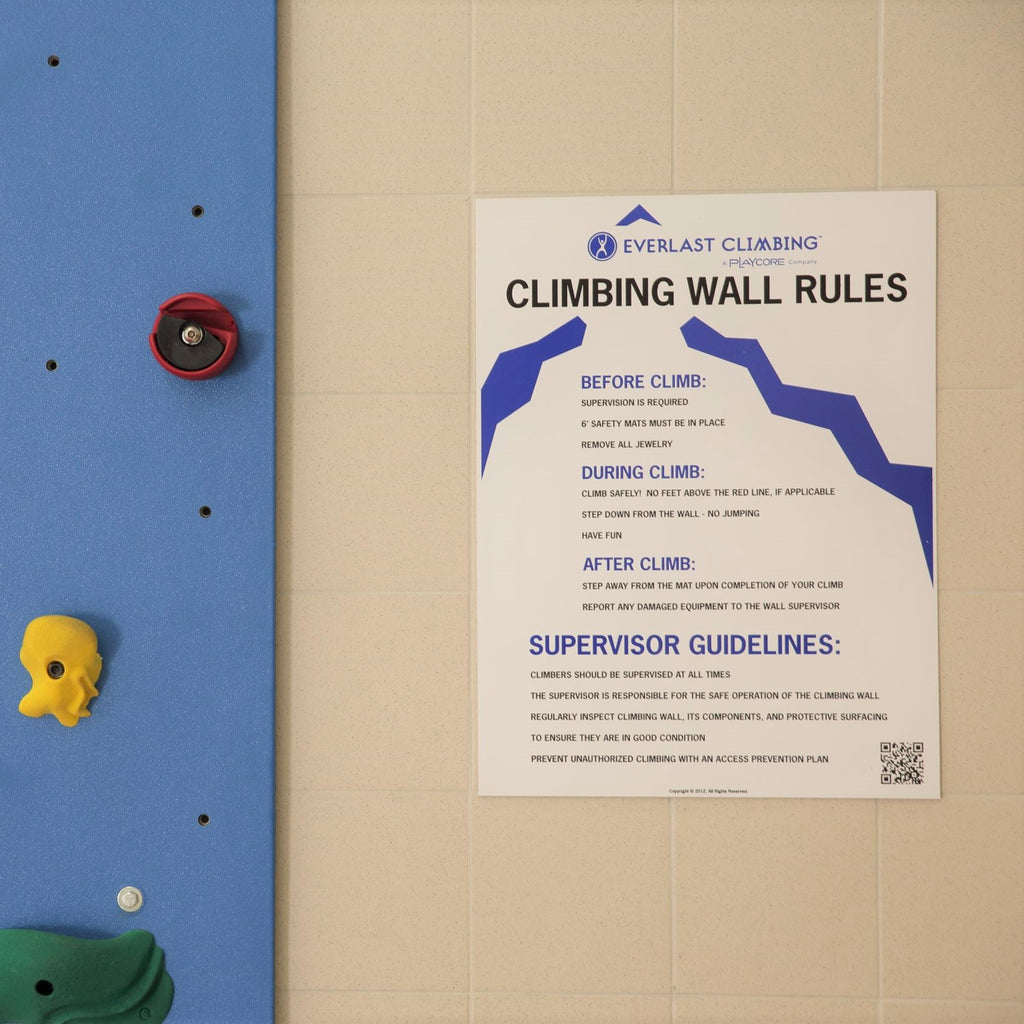 The Five Parts of Traverse Wall® Safety
Safety is a critical part of any climbing program. Even if you have a Traverse Wall where climbers move primarily in a horizontal direction and are never more than a few feet from safety mats, you still need to put protocols in place to keep your climbers safe. We have outlined five important parts of Traverse Wall safety.
PART ONE: Safety Rules
The first step of your climbing program should be establishing and enforcing safety rules. We suggest the following rules:
Climbers must be always supervised
Climbers must be in athletic attire and not wearing jewelry
Climbers must keep their feet below the Red-Relief® Line
Climbers may not climb over, under or around another climber
Climbers should climb down when ending their climb – no jumping
Climbers should quickly leave the mats when finished climbing
The rules should be clearly communicated to climbers and checked for understanding. Rules should also be posted near the climbing wall for climbers and supervisors.
PART TWO: Safety Surfacing
Safety surfacing is an important component to managing risk and must be in place before climbers get on the wall to offer a cushioned landing surface in the event of a fall. Climbing walls should have a six-foot fall zone, meaning that safety mats should be placed at the base of the climbing wall and extend out six feet. Ideally the safety mats should be two or three inches thick and attach to each other and to the base of the climbing wall to ensure that they always stay in place.
PART THREE: Inspections & Maintenance
Ongoing inspections and maintenance of your climbing wall helps to keep it safe. Before each use, inspect panels, mats and hand holds for signs of wear or breakage. Any damaged equipment should be immediately taken out of use and replaced or repaired. The most common issue encountered is a spinning hand hold which is easily tightened with a few turns of an Allen wrench. For more details about inspections and maintenance, please refer to the Safety, Care and Maintenance Manual that came with your climbing wall or contact us if you need a replacement copy. Additionally, you will need to periodically clean your climbing wall. Check out a past blog post that outlines that process.
PART FOUR: Staff Training
Proper training is another part to managing safety and risk management. Be sure that all staff using the climbing wall understands and enforces all safety rules and protocols. If the climbing wall is shared with other staff, for example classroom educators or before- and after-school childcare staff, they need to be trained. Don't forget about new staff that is hired. Consider regular refresher training as well. Check out our on-demand webinars which offer great climbing wall activity ideas and could be part of the staff training. 
PART FIVE: Closure System
Keeping climbers off the climbing wall when they are not supposed to be there is critical to managing safety. A Wall Closure System is one way to accomplish this because it greatly deters unauthorized and unsupervised use of the climbing wall. Our Cordless Mat-Locking® System closes and locks the climbing wall and notifies with "No Climbing" decals. It's a simple system in which the safety mats are folded up against the climbing wall and locked in place. It also provides protrusion protection if anyone accidentally runs into the closed climbing wall.