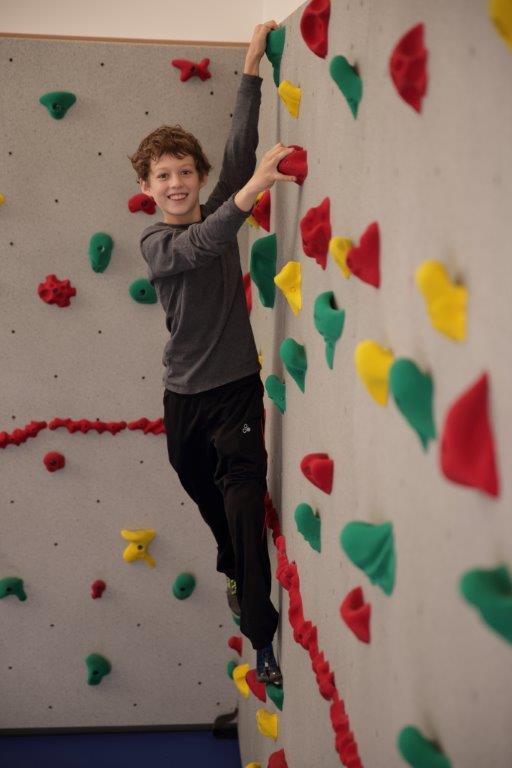 ROCK CLIMBING IN 2019: NEW IDEAS FOR THE NEW YEAR
The New Year brings opportunities to try some new things on your school climbing wall. Here are five ideas that will be sure to get you and your climbers excited to climb this year!
Encourage Goal Setting: Introduce Route Climbing!
Most Everlast Climbing walls feature color-coded hand holds. The green holds are the largest and easiest to grasp, the yellow holds are a little more technical and the red holds are the smallest and offer the most climbing challenge. Beginner climbers will want to use every hold available to them, regardless of color. However, as climbers become more confident and able, they should try route climbing. In other words, they should try to use holds of only one color.  They should do their best to avoid all other holds. The first route to try is the green route. Once that is accomplished, climbers should try the yellow route. The red route will be the most challenging and is something that may take months or longer to accomplish. Documenting who completed each route by putting names on posters near the climbing wall will help celebrate successes and encourage others to accept a new climbing challenge in the New Year.
Connect Rock Climbing to the Real World: Host an After-School Movie Party!
Available on many streaming services, The Dawn Wall is a climbing documentary showcasing Tommy Caldwell's and Kevin Jorgenson's attempt to scale the Dawn Wall of El Capitan. In addition to the breathtaking athleticism depicted, this is an inspiring film about overcoming adversity, perseverance, courage, teamwork, goal setting and more. Be sure to follow your school district's policy on movies and adhere to copyright laws before hosting such an event. If a movie party is not an option, consider showing Mathew Child's TED Talk, 9 life lessons from rock climbing during class. It's less than 5 minutes and offers climbing lessons that can also be applied to life. It will springboard to great class discussions and/or journaling activities.
Introduce a New Challenge: Keep the Climbing Wall Fresh!
Bringing in a new accessory will help maintain enthusiasm for rock climbing and push climbers to advance in climbing technique. The new Versa™ Challenge Course is easy to install and challenges climbers to climb through plastic hoops. It's so fun that climbers won't even realize that it's helping them develop problem solving skills, flexibility and strength.
Climb Beyond Physical Education Class: Climb Before and After-School!
Consider starting a climbing club before or after school one day a week. No matter what age your climbers are, or how large your climbing wall is, there are successful climbing clubs out there in elementary schools, middle schools and high schools. This is a fun, social experience that also helps to increase daily physical activity minutes for children.
Another use for your climbing wall outside of physical education class is to offer an Open Climb during a school family event. This could be during Parent-Teacher Conferences, the annual School Carnival, Family Math Night or other school event. This will give students a chance to climb outside of physical education class and also allows family members to experience the fun challenge of climbing and to get a glimpse into your physical education program.
Connect with Other Physical Educators: Join Social Media!
If you're not using Facebook, Instagram or Twitter to connect with other educators, you are missing out. Educators are generous about sharing their climbing wall experiences and new ideas on social media. Becoming part of this online community will help you to become a better teacher by giving you a wealth of new ideas and support. Also be sure to follow us as we frequently post new climbing wall resources and share the great climbing wall ideas of our followers.