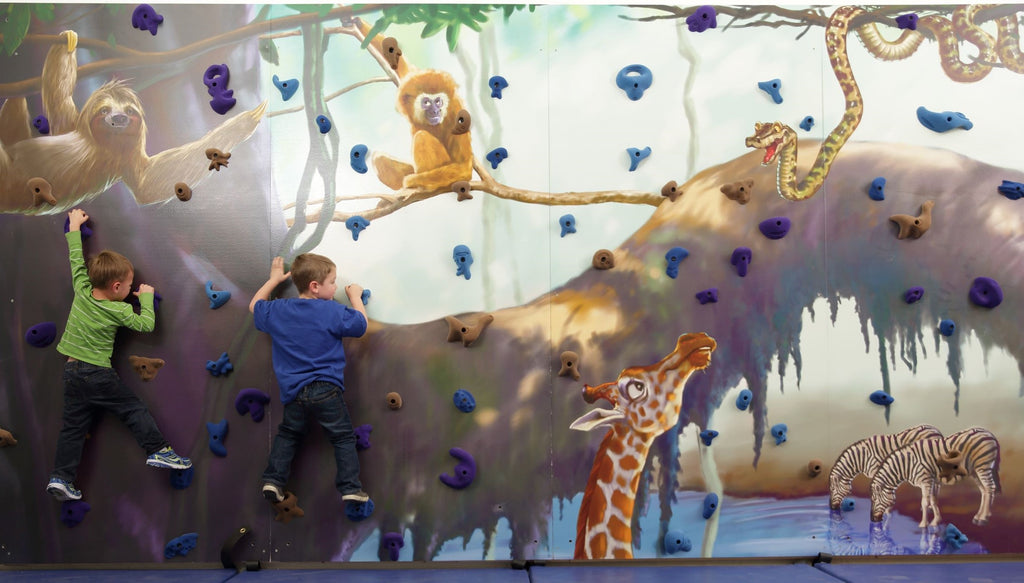 Express Yourself with a Mural Climbing Wall
Our Mural Climbing Walls really make a statement. They can enhance a theme, coordinate with existing décor or be a one-of-a-kind, bold showpiece. Here's an overview of our Mural Walls.
Nature-themed Mural Climbing Walls
We have a variety of options if you would like to bring nature indoors to your climbing experiences. We offer a mountain scene complete with meadow, rocks, trees and wildlife. Our jungle scene includes vines, a curious giraffe and startling snake, among other creatures.
Unique Mural Climbing Walls
Climbing underwater? Climbing in outer space? They're both possible! Our ocean mural features tropical fish, colorful coral, sharks and an eel. Stars, planets and a friendly astronaut are the backdrop for climbers on our space mural.
Custom Mural Climbing Walls
Custom murals allow you to have anything on your climbing wall. Simply provide us with the artwork and we will develop custom-color hand holds to complement the design. We will also create a custom t-nut pattern so that hand holds will be properly placed so as not to interfere with the design. You can choose a logo, mascot, photograph or original artwork as long as it meets the design size specifications we provide to you.
All of our mural climbing walls feature high-quality and high-resolution images due to the ultraviolet-curing process used for printing. They have a smooth climbing surface and hand holds of varying sizes and difficulty levels that complement the mural design in their color and placement.