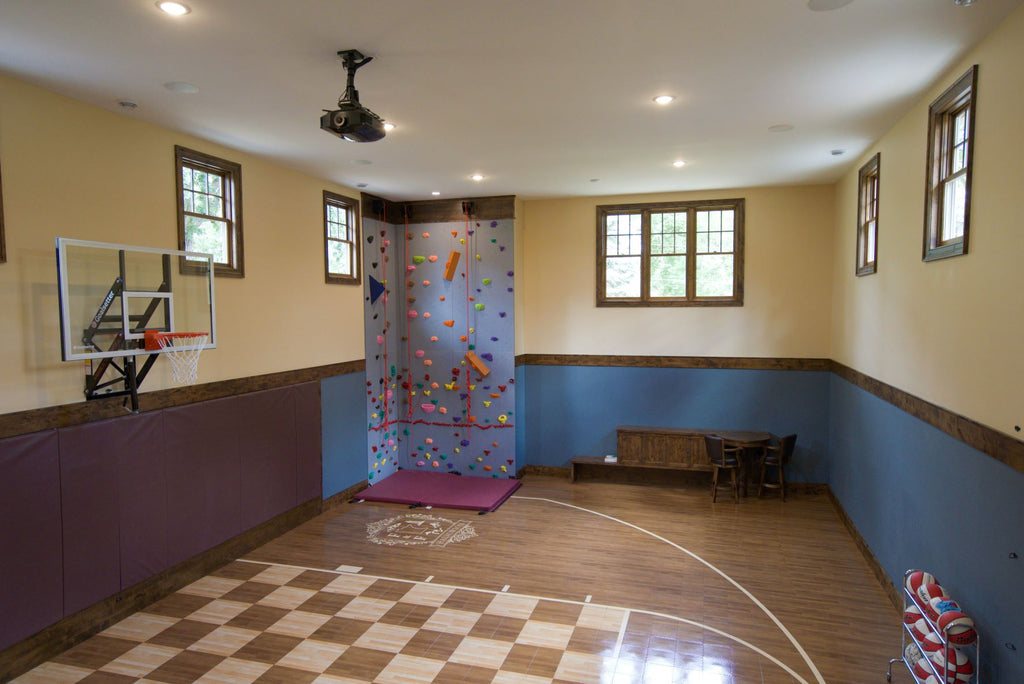 Everlast Climbing Home Climbing Walls 101
Home climbing walls are gaining in popularity—and for good reason! Climbing is a fantastic lifetime sport that simultaneously builds muscle, flexibility and cardiovascular endurance. There are even more benefits beyond the physical which we outlined in a past blog post. Having a climbing wall of your own makes your home sweeter AND the to go-to place for fun and fitness with family and friends. Here's an overview of the home climbing walls we offer. Which one would make the perfect addition to your home?
Vertical Home Climbing Wall
A vertical home climbing wall is made for climbing up. It can be simple or elaborate. We offer a multitude of surface options, as well as built-in features like overhangs, roofs and slabs. We will work with you to design your dream climbing wall. Since vertical climbing walls are taller than 10 feet, they require a belay system for safety. We offer traditional belay set ups which involve a belayer controlling the climber's safety rope. We also offer Auto Belay Systems where the climber simply clips in and the system automatically controls the safety rope. You will also need safety surfacing and we have several options for this. An on-site training is included with this type of climbing wall so that you can learn all of the safety protocols, including the belay system. We take care of the installation with our vertical climbing walls and work closely with you to ensure it's installed perfectly.  
Home Bouldering Wall aka Home Traverse Wall®
If your ceilings are not high, or if you would prefer a horizontal climbing wall, we can build for you a home bouldering cave or Traverse Wall® where climbers are never more than a few feet from the safety mats, but are still challenged and building fitness. These walls are ideal for young families, or you can add an overhang to increase the challenge for teen and adult climbers. Traverse Walls® are great for home athletic courts and can even include Safari® Indoor Jungle Gym Features, like Monkey Bars or a Wild Web Cargo Net to bring in a little Ninja flair. We can install this type of climbing wall, or, if you're handy, you can install this type of climbing wall yourself. Our installation guide will take you through all the steps and we're also available for phone support.
Freestanding Climbing Wall
Our EverActive® Jr. Freestanding Adjustable Wall is perfect for home use with dimensions of 8 feet wide and 10 feet tall. The angle of the wall can be adjusted from 10 to 60 degrees to accommodate a range of climber ages and ability levels. It does not require electricity; a hand crank adjusts the wall angle. You can get the complete package with hand holds and flooring. Installation takes two people 2-3 hours. This type of climbing wall grows with the climber and is the easiest to move if you relocate.

Outdoor Home Climbing Wall
Nor room inside? Our Playground Wall™ is perfect for the backyard. It is eight feet high and freestanding, offering climbing on two sides! It's available in gray or clear panels. The best part about the clear panels is that climbers can see other climbers climbing through the wall! Required landing surface is not included with this climbing wall and will need to be furnished by the homeowner.