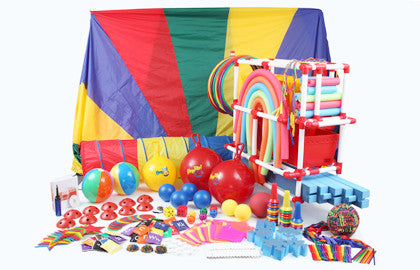 StartFit® Kindergarten-2nd Grade Package
Our packages provide everything you need to incorporate physical activity into the school or program day. 
Kindergarten – 2nd Grade Activity Package

Physical activity for kids is critical! StartFIT® Classroom Activity Packages help children achieve the recommended 60 minutes of daily physical activity. Our packages provide everything you need to incorporate physical activity into the school or program day. The Teacher Resource Guide details 10-, 20- and 30-minute activities set both within the classroom and in other activity spaces. Children will get moving in creative and engaging ways! Cross curricular tie-ins and tips for reducing prep time facilitate integration into a busy schedule. Each mobile cart includes over 200 pieces of equipment!

MOVE MORE, LEARN MORE!

Created BY educators FOR educators, the StartFIT® Classroom Activity Package brings activity, health and nutrition education into K-2  education classrooms. The K-2 StartFIT® Classroom Activity Package includes:

20 Yoga Cards

1 Music CD

1 Crawl Tunnel

26 Alphabet Bean Bags

10 Numbered Bean Bags

3 Urchin Balls

30 Activity Scarves

1 Stopwatch

15 Hula Hoops

30 Poly Spots

26 Cones

2 Foam Dice

30 Streamers

1 Parachute

   

2 Foam Balls

15 Foam Noodles

10 Bases

46 Connectors

5 Puzzle Beams

1 Kickball

3 Beach Balls

6 Wiffle Balls

3 Hop Along Balls

6 Jump Ropes

4 Coated Foam Balls

1 Hand Pump

1 Teacher Resource Guide including:Value-added mobile cart to store all listed product

Detailed Physical Activity Lesson Plans

Activity Matrix listing activities, time and space needed

Teaching tips & resources to conduct physical activities in the classroom

Specifications

 STARTFIT® K-2nd GRADE PACKAGE



Cart Dimensions

 65″L x 24″W x 66″H

Participant Capacity

 30 Participants

Assembly Time

30 minutes – cart comes partially assembled

Age Appropriate

K-2nd grades or 5-8 yrs old

FAQs

How many children can participate at one time in StartFIT® activities?

The activities and games are set up to accommodate up to 30 children. They include whole group activities, small group activities and partner activities.

I'm a regular education teacher. I don't have a background in physical education. Will I be able to use these packages with my students?

Yes! The StartFIT® packages were designed specifically so that general educators and physical educators alike could use them. The lesson plans are very detailed and a "teaching tips" section will help you feel comfortable engaging your class in physical activity. Plus, some of the lessons bring in math and language concepts, so they're perfect for the classroom!

Over 200 pieces of equipment sounds like a challenge to manage. How would I keep it all organized?

The StarFIT® Package includes a storage cart that houses all equipment, mostly in bins. Labeling the outside of each bin with what equipment should go in it helps keep things organized. Also, posting a picture of the whole cart on one of the bins helps remind people how it should look. The included Master Equipment List and an Equipment Check Out Sheet help manage sharing the equipment. Checking the cart at the end of each day also helps maintain order.

Shipping and Install

Shipping

Your StartFIT® Activity Package will ship to the delivery address you specify via FedEx.  We cannot deliver to Post Office Boxes.

You will need to meet the truck and unload the product. If unloading is not an option for you, Inside Delivery is available at an additional cost. Please contact your salesperson to add this to your order.

Please inspect all pallets and boxes before signing for the delivery. If there is any damage, you MUST note the damage on the delivery receipt BEFORE you sign it, or a damage claim cannot be filed with the trucking company. This is very important – please notify your receiving personnel and the person who usually signs for deliveries of this fact. Call us if there is any apparent damage and we will work with you to resolve the problem. Do not throw away any damaged material.