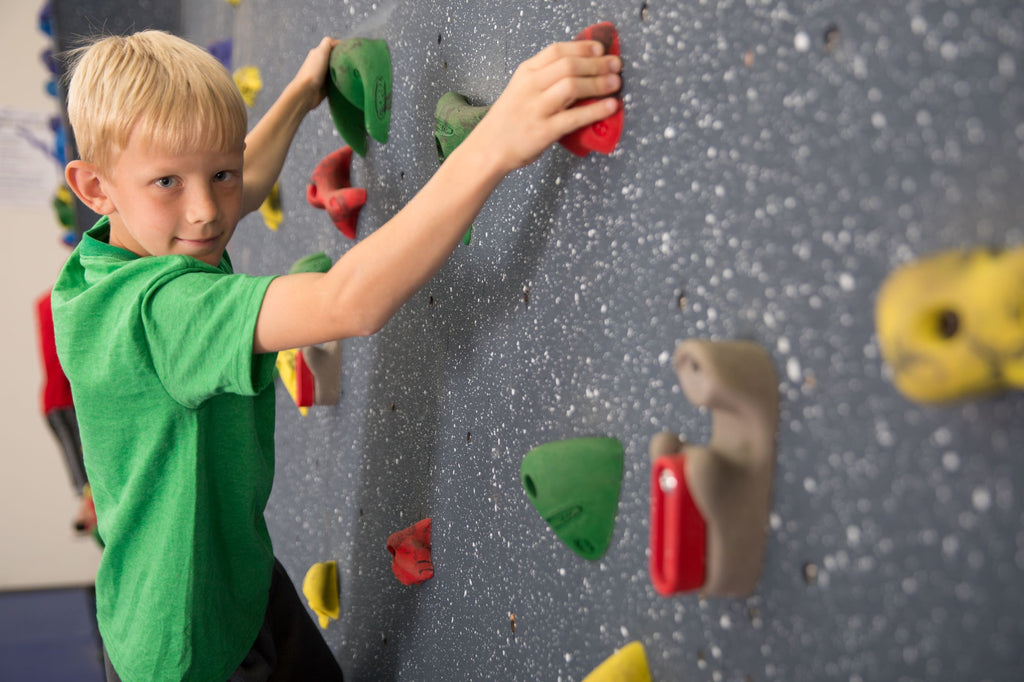 There's a Reason for the Rainbow: Color-coded Hand Holds Explained
At first glance, our climbing walls, loaded with colorful hand holds, are a beautiful sight. Did you know that it's about more than aesthetics and that there's a reason behind the different colors?
Most of our Traverse Walls® include color-coded hand holds in green, yellow and red. The green hand holds are our beginner-level holds and are typically the largest and easiest to grip. The yellow holds are intermediate level and are typically a little smaller and more challenging. The red grips are typically the most advanced and technical. Our 10'-high climbing walls and Top Rope Walls also include blue holds which bring another challenging color to the wall.
The color-coded hand holds bring a built-in differentiation to the climbing experience by allowing climbers to choose their challenge. New climbers will probably use holds of every color to make their way across the climbing wall. We call this the "rainbow route." As they advance in skill, they will graduate to route climbing, meaning climbing using holds of only one color. Using only the green holds would be the beginner route, followed by the yellow route and then the red route which would be the most challenging. As climbers progress in their route-climbing abilities, be sure they know that they can mix things up by using green and yellow holds before trying just the yellow holds. And they can always "borrow" a hold or two of a different color, if needed.
It's also important to keep in mind (and share with climbers) that how the holds are orientated on the climbing wall also affects their difficulty level. Positioned one way, a hand hold could be easy to grab with the whole hand, but positioned the opposite way, it could create a challenging sloping hold ("sloper") that requires an open-hand grip. This is why we state that holds of a certain color are "typically" beginner, intermediate and advanced, but not always. Additionally, how close or far apart holds are, and if there's an angle or overhang on the climbing wall, will also impact the difficulty level of a climb.
If you are interested in learning more about route setting, please read our Climbing Wall Route Setting Fundamentals blog post from a few months ago.