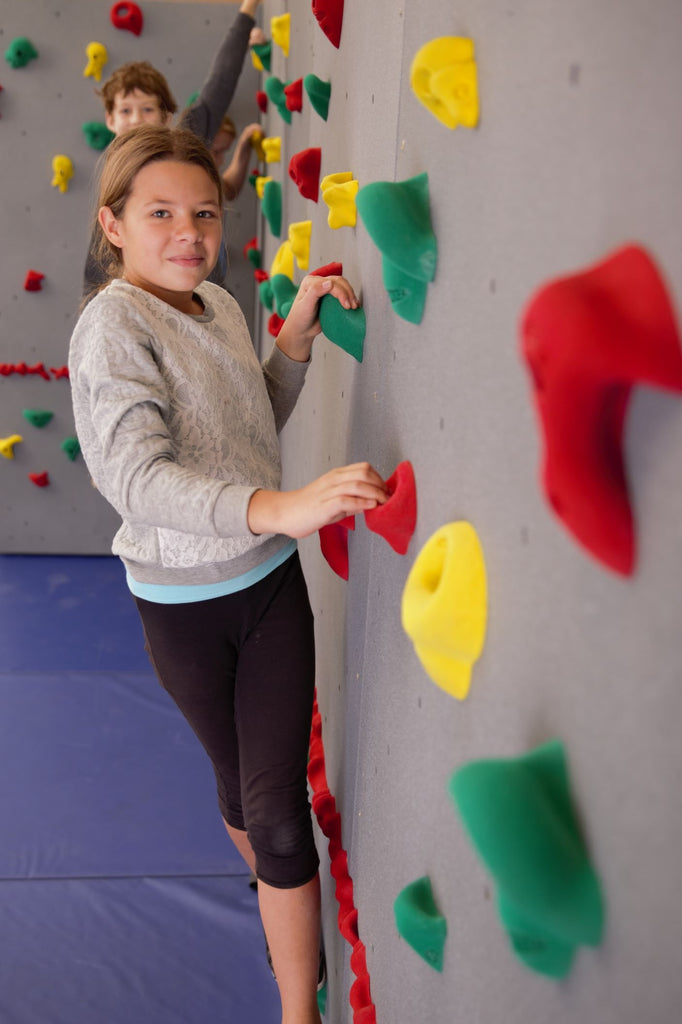 New Rock-Climbing Activities to Try in the New Year
Ready to try something new in 2021? How about some new rock wall challenges perfect for a Traverse Wall® or Bouldering Wall? We've got one for developing teamwork, one to challenge and one that requires a prop. These are fun in physical education, camp or home climbing wall settings and will keep those climbers coming back for more.
DEVELOP TEAMWORK
Add On
Climbers traverse the climbing wall by repeating and adding onto each other's moves.
Grade Level: 4 and up
Grouping: Small group (3-4 participants)
Materials:
Advance Set Up: None
Activity: Begin by deciding who will be the first, second, third, etc. climber. The first climber gets on the wall and does three moves. These moves must be distinct and involve no more than three hand or foot holds. Then s/he climbs down and the second climber repeats the moves of the first climber and adds one additional move, after which s/he climbs down. The third climber then gets on the wall, repeats the moves of the two previous climbers and adds one more move. The routine continues in this way, starting over with the first climber after everyone has had a turn, for as long as the group can manage. When they reach the end (or top) of the climbing wall, they can reverse direction. If at any point in time a climber cannot complete the series, simply have that climber step down and have the next climber in the rotation try. Encourage the climber who missed to try again after everyone else has had another turn.
Optional: Use tape to mark the holds that are being used to help climbers remember the sequence.
CHALLENGE YOURSELF
Front to Back Climb
Climbers rotate their bodies as they make their way across the climbing wall.
Grade Level: 4 and up
Grouping: Individual
Materials: None
Advance Set Up: None
Activity: Climbers begin climbing facing the wall. As they traverse across the wall, they carefully rotate so they are facing out. Then they turn again to face the wall and repeat "flipping" until the end of wall is reached.
Note: This is challenging and should only be done by experienced climbers.
USE A PROP
Bean Bag Challenge
This activity encourages careful, smooth and controlled climbing.
Grade Level: 2 and up
Grouping: Individual
Materials:
Beanbag*, one per climber
Advance Set Up: None
Activity: Participants are challenged to climb with a bean bag balanced on their head. If it falls off, they restart the climb. The goal is to make it across the entire length of the traverse wall without having the bag fall off.
*Substitute a small stuffed animal if you don't have a beanbag