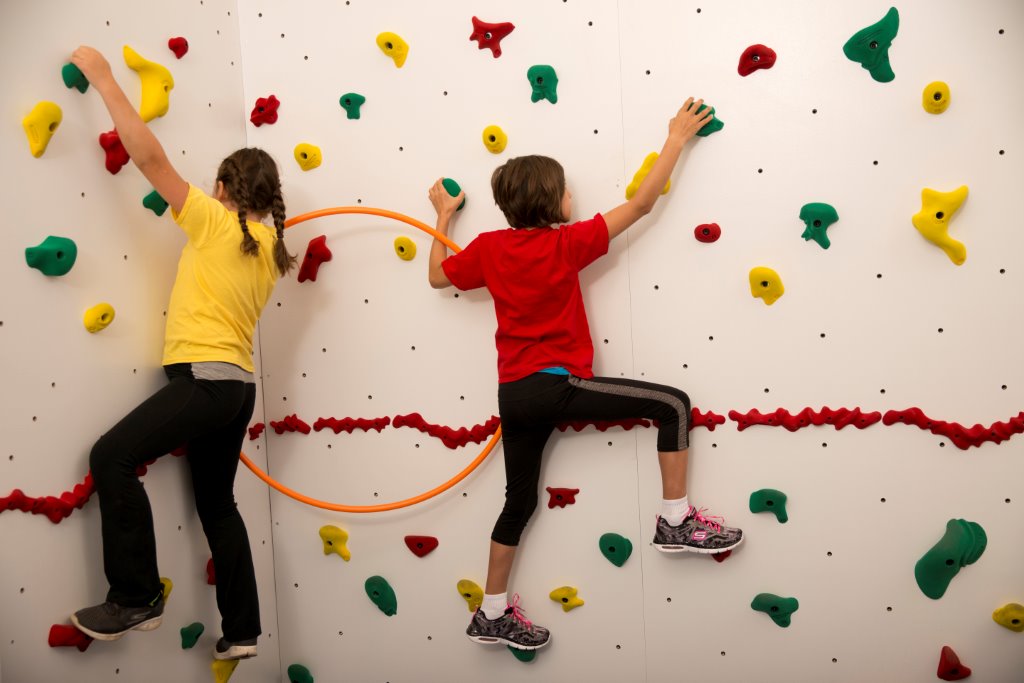 Hula Hoop Haven
Teams work cooperatively to traverse the climbing wall with arms linked through Hula Hoops.
Grade Level: 3 and up
Grouping: Small groups of 2-4 people
Materials:
Hula Hoops (number is dependent on number of climbers and size of wall)
Advance Set Up: None
Activity:
Divide the group into teams of 2-4 people. The first time the activity is conducted, participants should be put into pairs. Then they graduate to teams of 3 and then 4 because the larger the group, the more challenging the activity is. The activity could also be conducted with different-sized groups simultaneously. Once you have determined how to divide your group, participants may begin climbing.
Participants must problem solve to discover a way to climb across the Traverse Wall with one arm linked to a Hula Hoop that is also linked to the arm of their partner(s) and following the rules of the activity.
Hula Hoop Haven Rules
One arm of each climber must be attached to the Hula Hoop at all times
The goal is for the team to traverse across the wall without climbing down off the wall.
The climb begins when the first climber mounts the climbing wall.
The climb is complete when each member of the team reaches the opposite side of the climbing wall and steps down.
If the rules are broken, the team must restart the climb.
Variations:
To decrease challenge, complete activity only in partner groups of two people.
To increase challenge, complete the activity with a larger number of climbers. Or, try it again without speaking!
Teaching Tip: Do not have a team larger than 4 people.
National Standard(s): 1,2,3,4 & 5
Grade-Level Outcomes: 
Nonlocomotor (S1.E7, S1.E8, S1.E10)
Movement concepts (S2.E1, S2.E2)
Engages in physical activity (S3.E2, S3.M3, S3.M4, S3.M5)
Personal responsibility (S4.E1, S4.E2, S4.M1, S4.M2)
Working with others (S4.E4, S4.M4, S4.M5)
Rules & etiquette (S4.E5, S4.M5,S4.M6)
Safety (S4.E6, S4.M7)
Challenge (S5.E2, S5.M3)